February in Mississippi
I have been visiting my dad the last couple of weeks. I could try to stretch out my report, but I have opted to add pictures that Birgitta sent me and to publish a fanciful story by Luke Rader that he wrote in Argentina last month. I hope that you love the pictures of my new granddaughter as much as I do. I hope that you like the story by Luke. His crazy prose always keeps me chuckling. I also have some comments on American life and politics.
Lago del Diablo
(The Devil's Lake)
by Luke Rader
January 2008
Largo de Diablo is one of those coastal towns, looking down on a bay. It is almost separated from the ocean by a split of sand. The celery-color ocean extends to the horizon line. With the vastness of the sky makes everything seem a lot closer and the ocean look as if it is tipping back on the beach at an acute angle. Also strange is the lack of seagulls, which seem to have been sucked by force to Africa, leaving a stillness, except for the lapping of waves. The town is built on a high ridge expanding down to a salt water marsh or swamp. Walking down the streets, you notice people with limbs and the door stoops get higher without steps. In some cases, they have shortened the door as they went higher and in others, they have extended the door frames up thru the roof like an extra chimney. There are hand and foot holes on the wall beside the doors, which means that you're closer to the swamp. The swamp is something from a different age: giant ferns, murky-rank smelling water, huge insects and large rats. Plus there is a sizable population of salt water crocodiles that have grown extremely large and have moss, and other things covering their bodies. So, a crocodile looks like an walking garden plot. The only real danger to humans is when they develop a taste for dog and slither into town. You know the danger areas, by the number of frayed dog leashes hanging by a door, in memory of a lost pet. But for the most part, their diet consists mainly of swamp rat, which is a strange hopping rodent that is similar in shape and size to a hairy bowling ball. At night, you hear the thumping sounds of rats over the droning of insects with clamping of jaws with slithers. Occasionally, the crocs will mistake a human for a rat. Both hop around the same with one foot in the jaw. You really don't realize the extent of these crocodiles until when at night you take a taxi down to the swamp. Have the driver shine his light into the marsh. Thousands of red ping-pong size eyes jump out at you. Then you notice also large number of one-eyed crocodiles. A cold chill creeps down your spine, because that is just the spacing between the eyes.
When I got down here two weeks ago, Dad had two volunteers staying with him. They were from Gimli, Manitoba, which is about an hour north of Winnipeg. There was Jason. He is the Lutheran pastor for the town. He only took up preaching about ten years ago. Before that he was a farmer and electrician in Saskatchewan. Bert is a retried airline pilot. Every day they made their way to Camp Victor, the Lutheran-Presbyterian recovery center in Ocean Springs. Camp Victor is one of several disaster relief centers in Mississippi. Thousands of volunteers have come to help rebuild the gulf coast after hurricane Katrina. Camp Victor still has almost 1000 homes left to rebuild and I have heard that there are still thousands more for others to rebuild.
Mostly I have been cooking for my dad. I also have done some yard work. It is great to get outside and do something. When it is not raining, it is very pleasant. Temperatures are usually in the 60's during the day and sometimes warmer yet.
I have gone to a couple of movies, but nothing to rave about. One night I hit a local watering hole. It was OK.
Gas Guzzling Idiocy
Traveling in the USA this winter has been interesting. I have learned how beautiful the east coast really is. The Appalachian Mountains are lovely and plenty rugged enough for me. I also have seen how we squander the precious resources of the earth. The roads here are fantastic, long ribbons of concrete and asphalt. We live in a world where you must drive everywhere, because all the things that you need to live, such as food, and enjoy life, like a movie theater, are beyond even a husky walk. So, every family has one or two or three vehicles. Most disgusting are the vehicles. They are mostly big, ugly, gas-guzzling behemoths. I think that big, and I mean big, pickup trucks dominate the roadways. They are rarely working trucks, meaning that they carry no load and just one driver. Where are all the 1.6 to 2.0 liter cars that are so prevalent everywhere else in the world?
Ready for Change
I am ready for a change. I have been ready for a change for over forty years. There has been a lot of talk about change this political season. Soon Americans will elect a new leader. Given the power of the rich and the stupidity of my countrymen, I do not see us making any real changes in the next four years. Yes, chances are Hilary or Barack will be our next leader. And yes, some positive steps will be made. But they are sure to be baby steps and as always the rich will only get richer. And the real power will never be in the hands of the people.
Alternative Realities
The vast majority of Americans have little or no understanding of the world around them. However, the possibility of getting good information has exploded in the USA over the past five years. The internet has begun to change how people, mostly the young, see the world. There are more interesting conversations going on everyday. The best sources are always on the satirical side, like the Onion. But there are more serious sources, like Slate.com or the Brad Blog or any of hundreds of political blogs. I just discovered the Brad Blog today, and I like it and its links to other multimedia sources. Check it out.
Who is f@cking who?
There has been some interesting humor on the airwaves this past month. It started with a video gift that Sara Silverman gave to Jimmy Kimmel. Its called "I'm f@cking Matt Damon." A few days ago Jimmy aired his response: "I'm f@cking Ben Affleck." Just click on the links to view them on You Tube.
Free Classical Music
This morning I heard a story on NPR about a good classical album that you can download for free. The album is called the The Naked Violin. You can get it as the Tasmin Little web site. She is the recording artist. I recommend that you check it out. I did and I like her style.
Posted by bill at
05:54 PM
|
Comments (3)
Pittsburgh, Syracuse and Washington, DC
For a long time I have wanted to do some research on distant family members in Pennsylvania and New York. So, from the 27th through the 8th of February I made my way to Pittsburgh, Erie, Friendship, Cortland, Auburn, Syracuse, Scranton and Carbondale in my quest for information. Finally, on my way back to Greensboro I stopped in Washington for a few days. A brief description of the loop north follows.
On Sunday the 27th of January, I headed toward Pittsburg. Most of the day, I drove through West Virginia. The road was hilly to say the least. I even passed through a long tunnel. Even at this time of the year the land is beautiful. I drove all day long and arrived in Pittsburgh just after dark.
I was welcomed to the home of Liz and David, my couch-surfing hosts. They are doctors, who both work part-time as they raise and home-school their four children. They have a lovely home on the south edge of Pittsburgh. During my three-night stay, we had ample opportunity to talk. And talk we did, discussing gardening, our kids, our homes, politics and so much more.
On Monday I headed to a nearby county, where I found a wonderful little museum with local church records. I was looking for info on my great-grandfather, John Charles Brinker. I thought that I had a lead on his family, but I was wrong. But I was able to eliminate the only John C. Brinker in the 1860 census as a possibility. I also spent some time in downtown Pittsburgh at the Mellon Institute Library. It is a great library in the heart of Pittsburgh.
During all my driving Monday, I got a real sense of the area. Like other Eastern areas, the age and beauty of the housing stock and other buildings was wonderful. The topography of the area is extremely rough for an urban area. Everywhere I could see deep ravines or river valleys. There was one ravine than a steep hill and another ravine, one after another after another. I estimate that less than half-the land is available for development. And the site of houses climbing up the side of steep hills took me by surprise.
South End of Lake Skaneateles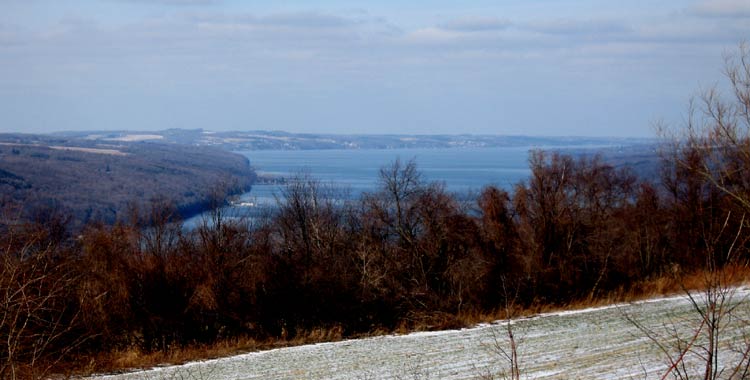 After taking it easy all day Tuesday, I drove north on Wednesday. First stop was Erie, PA. I only stopped long enough to discover that I could not get the info I wanted. I immediately headed north and then east to Friendship, NY. Several of my grandmother's great uncles and aunts and their children lived in Friendship in the late 1800's. In Friendship I met with the town historian. We talked for a while. I was able to verify some burials in the local cemetery and we visited the cemeteries. An hour before dark, I was headed east again. The only big shock along the way was the price of gas. Where I stopped, the cost was $3.27 per gallon. I made it to Cortland to settle in for the night.
My grand-mother's great-grandparents, Zenas and Nancy Miller, moved to this area of New York from Massachusetts in 1812. After a few years of moving around they finally settled in the Town of Scott, where they raised their eight children. The town lies between two high ridges that seemed like mountains to this flatlander. The north edge of Scott borders Lake Skaneateles, one of the many finger lakes in the area. I did not discover anything in Cortland. So I headed north through Scott and along Lake Skaneateles. Soon I was in Auburn, where I spent the day finding obituaries in the county historical museum. I was not able to get a lot of info, but it was much better than in Pittsburgh or Friendship. About sundown I headed for Syracuse, and the home of my next couch-surfing hosts, David and Bahar. David is a professor at a nearby college and Bahar is a grad student. They have a lovely home. Again the talks about travel, food, gardens and politics were excellent.
The next two days of research were very fruitful. I was able to track down much of the info on the descendants of Seymour Miller that I had come for. I found it in the main library of downtown Syracuse. There were a New York state death index, city directories, and an online searchable newspaper database.
I stayed in Syracuse two more nights but I moved on to a new host, Yeliz. She is a PhD. candidate in Information Technology. Saturday night we went out to Coleman's Authentic Irish Pub and listened to some great bar music by the band Sirsy. The music is very good, you might want to download one of their songs from iTunes or from their sample site. Sunday was a quiet day. I took it easy all day long.
Every town that I visited in New York had delightful, well-maintained, very old homes. The towns appeared to be caught in the mid 1800's. The ridges or mountains and lakes were stunning. I truly enjoyed my visit to this area.
Monday morning I was headed south to Scranton. I made a stop at the Forest Hill Cemetery, where I got a lot of info on the descendants of Edwin Miller. I was quickly back on the road to the nearby town of Carbondale. Here I found the obituary of one of Edwin's grandchildren. Carbondale and the road to it is coal country. It seemed like the hills were made of it. There was raw coal everywhere. Near Carbondale I found mountains of mined coal in piles several stories high. When I was done in Carbondale, I again headed south and stopped in York, PA.
I left York in the late morning. My next stop was Washington, DC. I found my hosts, Bob and Kate, in Arlington, VA. They lived in one of those beautiful brick homes that can be found throughout Arlington and Alexandria. Their home was furnished with Stickley pieces. As a furniture maker, I love to look at and use these pieces.
The next two days I visited four museums and several parks and the Roosevelt Memorial. I started in the Archives and saw the Declaration of Independence and an early draft of the U.S. Constitution. I did not stay long at the Archives. Across the street and down the block is the National Art Gallery. It is spectacular. It is one of the best art museums that I have ever visited. Please, check out their website. Their photos are much better than mine. I spent most of the day there. My favorite painters are the 19th century impressionist, especially Manet. Late in the afternoon I made it to the National Portrait Gallery. The content is varied. It is best known for its collection of presidential portraits, but there is so much more. Great American art work abounds from the serious to the playful. The primary subject of the art is Americans: painting, sculpture and photographs of well-known Americans. There is a large section of folk art, which I loved for it mirthfulness. I found the sculptures of Paul Manship. Originally from Minnesota, his art is so worth seeing. I learned more and saw more than you could image. Finally, I want to mention the Luce Foundation Center for American Art that is housed in the Portrait Gallery. All of its pieces are available to see on the third floor mezzanine. Their catalog of pieces is online. I highly recommend that you take a look at it.
My legs gave out before I could see the entire museum. So, I returned the next day. I want to mention a very funny piece that I saw. A portrait of Stephen Colbert hangs between one of men's and women's restrooms. Stephen is an American satirist best known for his TV show the Colbert Report. I snapped a picture of me standing next to the portrait. Betty loved the photo, because she loves Stephen's humor. He tried to get a museum to take his portrait and surprisingly enough the National Portrait Gallery took it, and based on the other folks taking pictures of it – it is a very popular piece. If you have never seen his show check out the Comedy Central page with some of his recent shows. You will be laughing for days and a new one is out every week-day.
Besides returning to the Portrait Gallery on Thursday, I visited Potomac Park that lays on a narrow peninsula jutting out in to the East Potomac River. There were children climbing all over a very strange sculpture, the Awakening. See my photos for a good look. I also visited the Franklin Delano Roosevelt Memorial, a good place to rest and think on a sunny day. I also saw the Capitol building and the White house with its proverbial protestor.
On Friday I returned to Greensboro for a night, before flying to Gulfport, MS, on Saturday. Along the way, I drove down the Memorial Boulevard in Richmond. Mostly Confederate "Heroes" are remembered. But there is a Memorial to Arthur Ashe. Ashe a world famous tennis player could not even play on the city tennis courts as a boy, because he was a Black man.

From the National Portrait Gallery