Earth and Sky in Minnesota
Irises in the Garden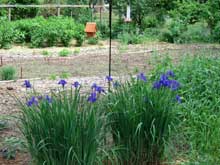 Irises, Bleeding Hearts and Ferns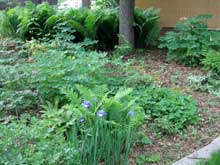 A New Grape Vine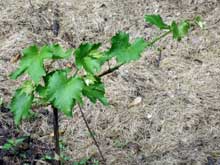 Pears are Coming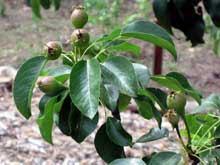 Roses in Bloom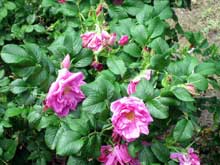 Rhubarb Ready for Harvest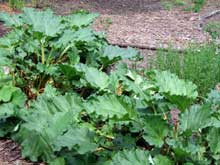 The Deck is Ready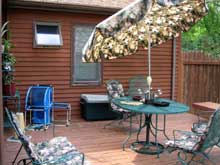 Mazy and Daisy, the New House Cats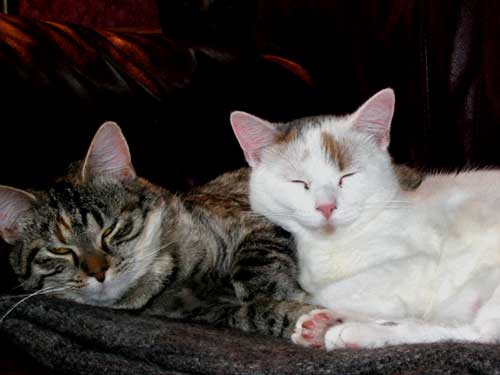 It has been just two months since we arrived in the Twin Cities. God, but it has been beautiful here. The weather has been nearly perfect, with temps in the 70's and low 80's almost everyday. The sun has been shining so much that I have been hoping for some rain, which came this past week. The days are long here this time of the year. The summer solstice just came a few days ago. The sun was up 15 hours and 36 minutes that day. I crave the sun and love the long days.
While we were in Mexico, Yum-yum, our cat of more than fifteen years, died. Birgitta was good enough to promptly get two new cats, Daisy and Mazy. Daisy is almost all white, except for a couple of patches of black and brown. Despite her sweet looks, she is a huntress. Luckily she seems to enjoy hunting insects more that the birds. The other cat has tiger stripes. She looks fierce until she rolls on her back and begs for attention like a dog. I might not have replaced the old cat, except for Birgitta, because as I have aged their dander tends to make my eyes itch. Still I do love cats.
Birgitta is a full time student. She plans to wrap up her degree in a year or two. At first, it looked like she would be majoring in marketing, but now she seems to be headed for a major in economics. She finished all her courses for the spring semester late in May. She is currently taking a class in the geography of economics. Later this summer she plans to have surgery to repair a bad disk. She should be able to get back to school for the fall semester without any problems.
Happy Birthday DAD !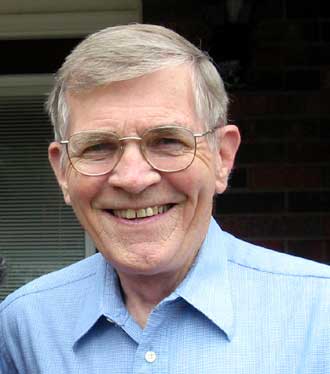 80 Years and Still Cooking
My father is Martin Sidney Sundstrom. His friends call him Sid. He was born 27 June 1926 near Beresford, South Dakota. Today, he lives in Ocean Springs, Mississippi.
Have the happiest of birthdays!
Lately, I have noted that since I retired nearly five years ago, I have not been in the Twin Cities much. In fact, in the past two years, I have not been here for much more than four months, including the past two. So things have not changed much, but - well - seems like a lot of stuff has gone to hell: the main thing being a yard run amok. With nearly perfect weather the yard both last year and this has gone wild. Last year some of the weeds and grass were more than two meters high, which brought a housing inspector to the door. You can see the paths in my garden from the satellite photos on Google. So, while the past eight weeks have been beautiful in sky and earth, they have also been very, very hard. Hard: because I have had so much work to do. Having been away for almost two straight years has meant that there was a tremendous amount of work to do: removing weeds, digging out "volunteer" trees, we moved and replaced or just purchased new plants. We put in new current bushes. I lowered our grape arbor - which was two feet too high. I replaced my existing grape vines with four new vines. We put in blueberry bushes and two new varieties of raspberries. We also put in new flowers and other perennials. Day after day it has been one job after another. We repaired the lawn. And we cleaned our wooden deck and the siding next to it, and then we stained it. In the past two weeks I cleaned the rest of the wood siding on the house, garage, and garden shed. Nearly, everyday it has been work, work and more work. Thank god, we are just about caught up on everything.
To say the least, I was not in good shape when we started all these projects. Every muscle in my body has ached and ached. About three weeks ago, while staining the deck, I fell down the deck stairs. Luckily, I did not break my leg. Unfortunately, my leg swelled up and has hurt ever since. The swelling is almost gone, and it stopped hurting when I touched the bruised area. I like to think that the work has been good for my body and soul. Surely, I have lost ten of the pounds that I picked up in Mexico. Working the earth and being under the blue sky and in the sun is good for my soul. Like the plants in the yard - the sun brings me life. Like my grandfather, I must be farmer at heart.
The birthday month is just beginning. In a few days, my dad will turn 80. Next week, I will be turning 59. My sister turns 55 in two weeks and my son Dain will be 31 in three weeks.
I will try to write my next entry in a more timely manner.
Until then I will enjoy the earth and sky in Minnesota, adios.
Posted by bill at
12:45 PM
|
Comments (0)