Down the Pacific Coast
Press HERE to see a slideshow from the West Coast.
| | |
| --- | --- |
| On the Manzanita Bay | The Rugged Coast |
| An Oddity - The Amphibian Car | Eureka Victorian Mansion |
| Eureka's Old Town | Eureka's Pier |
| Maya and Ivy | Ivy, Grandpa, Bryn, Maya and Tianna |
| Bryn and Christina | Dam Whirlpool |
| Dorothy Blumenstein and Me | Morton Soerensen and Me |
| George Streckus | George with Betty |
| Jayna and Edda | Sanj, Kieran and Krista |
| In and Under | the Redwoods |
| Our Cabin in Big Sur | Warm and Cozy |
| Looking North Along the Coast | Looking South |
| The California Condor | Close UP Too |
| Fighting Sea Lions | and a Nursing Calf |
| Dain and Marleta | Marleta and Betty at the Getty |
It has been entirely too long since I last wrote an entry. It almost becomes a problem for me, because there is so much to remember. I will try to recall everything that we have done and seen in the past three weeks, but it may well be very abbreviated. The pictures will have to tell much of the story. Remember that the pictures are all thumbnails; click on them and you will get a much larger and clearer picture.
We started by driving to the Oregon coast. It was raining as it had everyday, since arriving in Oregon. Betty's brother John was visiting friends and house sitting near Manzanita Bay. We arrived in the afternoon and stayed the evening. John's friend, Drew, dropped by with a vegetarian dinner for us. He was an interesting guy to meet. He was an ex-computer geek that dropped out and was living here in the forests of Oregon. The house had the normal amenities, however, the water pump was broken - so we were without running water.
The next morning John joined us in our journey down the coast. We drove in to Manzanita for a breakfast of coffee and carrot-cake. We took a stroll on the beach. We did not stay long on the beach because of the intermittent rain showers. From here we headed south, stopping occasionally to see the sights, get a bit to eat or to look at something odd. One place that we enjoyed stopping at was a cheese factory, where we loaded up on good cheese and smoked salmon. We stopped in Florence for the evening. Betty and I had dinner with Donald Walker and his partner. He is a distant cousin, who I interviewed in hopes of filling in missing details of my family tree. One of the things that I wanted to do on this trip was to work on my family tree research.
The next day we drove as far as Eureka. There were no serious problems along the way. It was still raining. We drove into Ferndale and wanted to drive around a scenic loop, but the fog scared us off. We continued south and drove through the redwood forest. We almost got stuck behind a landslide, but road crews had been working all day to clear the mud and rock. The valleys that we drove through were beautiful. The roads were good and we made good time. If the trees were not fir trees, they were leafless, often covered in thick green moss or the Spanish type moss that floated in the branches. It turned dark when we entered Sonoma County. It was about here that it quit raining. It was the first time in three weeks that it finally quit raining and it has not rained but once or twice since then. We kept on driving and in a couple of hours we were at John's apartment in Emeryville, which is a tiny city between Oakland and Berkeley.
The next day, a Sunday, I went to the Oakland Library, on the hunt for more info for Betty and my family. When the library closed, drove through some of Oakland's neighborhoods. Oakland is a lovely city. Most of the housing was built after 1920. Then we headed over to two old friends of ours, Bunny and Judy. Betty had not seen them in more than twenty years. They have two teenage boys in live in a nice section of Oakland. We ate dinner and talked until mid evening.
On Monday, the 16th of January, Betty, John and I drove to Chico, where his daughter Christina lives where her husband, Campbell Church, and their children Maya, Ivy and Bryn. Betty and I had not seen Christina in many years. It was a pleasure to get to know them and spend a day with the family.
On the way back to Oakland the next day, we drove to Napa. Along the way, we passed by nut tree orchards, flat farm lands, rolling hills and steep little canyons. We stopped at dam that had an interesting looking outlet that looked like a whirlpool. We had lunch in Napa and I did a bit of research at the county recorder's office. We arrived back in Oakland near dark. We joined John in meeting with a group of his friends for pizza, beer and good conversation.
The next day we drove up to Sebastopol, a small town a dozen miles west of Santa Rosa. This is where the sister of Betty's grandmother lived and raised a large family. We visited the local library to read old obituaries. And then we visited the graveyard where most of the Donnellys are interred. We stopped for a while in Santa Rosa then drove south, crossing the Golden Gate Bridge and continuing through the San Francisco. Eventually we came to San Mateo, where Krista and Sanjiv live. Krista is the daughter of my sister, Gay Lynn. They have two wonderful children, Jayna and Kieran. Jayna is just six years old and Kieran is 18 months old. We spent the next several days at their house. Krista made a lovely Italian dinner.
The next day we drove some 200 miles to the southeast to Fowler. I wanted to interview Wilma Buckman. She was the granddaughter of Alice Moore Craven. Alice was the cousin of my great-grandfather, Orville Miller. Wilma is a charming woman, very sharp for an 80-year old woman. The interview was very fruitful. She filled in many details and gave me the address for a cousin, who lives in Los Angeles County. I wish that I had gotten a picture of her. We spent the evening in Fresno, which is a much larger city than I could have imagined with a half-a-million residents.
We headed back to San Meteo the next day. We stopped about half-way back to visit my grandmother's cousin, Dorothy Orr Blumenstein. We had a delight talk. She also filled me in on a lot of family detail. We stayed for a few hours then headed for San Francisco Bay. We stopped in Fremont to find Betty's second cousin, George Streckfus. While not in the best of health, he has a sharp mind. He is the first of the Donnelly line that we have talked to. We finally got back to San Mateo about five. Edda and her father Damon arrived at the house just as we did. Edda is Jayna's friend who lives in Seattle. Damon is good friends with Krista and Sanj. They came for Jayna's birthday party. We had some fabulous oriental food. They had sushi and we had cooked food. All was excellent.
The next day we had lunch with an old friend of mine, Morton Soerenson. He lived in the Twin Cities years ago. We visited him once when he lived in Boise. I thought it would be good for us to get together again. Last time I saw him his boys were boys. Now the oldest is out of high school and will be headed for college next year. I discovered that he and I share an interest in genealogy. One year we hope meet him at his summer home in Denmark. We watched movies with Sanj and Krista that night.
On Sunday, the 19th, we left about midday. We drove to the ocean by Half Moon Bay and then south until we reached Monterrey. We had hoped to visit their fantastic aquarium. But it was only going to be open another hour or so. So we passed. I guess we sculd have checked it out for that hour, but we knew we could never get through it in time - and the admission was $22 each. This might be the place where, as we drove south from Oregon, everything has gotten a little more expensive as each mile passed by.

In Good Company,
on our laptop computer, because there was no television.
The coast line south of Big Sur was stunningly beautiful. It is has a wild flavor. We saw seals and California condors and elephant seals. We also stopped to see the Hearst Castle at San Simeon. An outrageous admittance fee of $20 each kept us from taking the tour. We pressed on and got to Malibu just as the sun was setting. An hour later we were at our son's apartment in Santa Monica. Marleta greet us, but Dain did not. He was in San Francisco on business.
During the days, I did quit a bit of family research in the past week. I did one in-person interviewed and two phone interviews. I spent a day in the vital statistics records office for Los Angeles County. I tried to find obituaries. Overall it has been difficult work here. The resources are scattered or non-existent. In the evenings we enjoy dinners out, first with Marleta and then with Marleta and Dain after he got back late Wednesday night. On Thursday we all went out for dinner along with David and Amelia Blevins and listened to a wonderful jazz concert. The singer was fabulous and her band was marvelous. On Saturday, I drove down to Huntington Beach and drove back up along the coast. I stopped to interview Isabelle Long. I got back after seven and Betty, Dain and Marleta were still out. I walked down the street and put our name in for a table at an excellent restaurant. That is a real nice thing about where Dain lives. Everything is just a block or two away. When they got back from their day at the Getty Center, we drank a bottle of good wine and walked over to the restaurant.
Yesterday, Sunday, Betty prepared a marvelous turkey dinner for us. She did all the prep work in the morning. Then we headed for Venice Beach. It is the next town down the coast. It is called Venice because of its dozen or so canals. It has a crazy, hippy, fun-loving atmosphere. The city has provided areas for all kinds of recreation and hobbies, not to mention the beautiful beach. There are areas for tennis and handball, for gymnastics and skateboarding and roller skating and basketball and even walls for graffiti painters.
We got back to their apartment about 3:30 and the turkey went promptly into the oven. It seemed like it took forever for the turkey to cook. David and Amelia joined us. The wine and the conversation was good, except Dain and David talked way too much shop. Amelia is a native Ecuador. The conversation about South America was great. The turkey was well worth the wait. It was a most enjoyable meal and a most enjoyable day.

| | | | |
| --- | --- | --- | --- |
| Gardens at he Getty | Shadows | Iron Trees | at the Getty |
| An Artistic Eye | The Iron Tree | Close Up | Dain and His Mom |
| Venice Canal | Venice Canal | Mural on Venice Beach | One of the Graffiti Walls |
| Beach and Pier | and Surf and Rocks | Kookie Shops | Skater's Rockin' and Rolling |
| Musicians and Music | and Sand Sculptures | Entertainers and Artists | Venice Beach |
Tomorrow we will be going to Victorville to visit my aunt Tiny and her family. I will try to write one more time before heading to Mexico.
Posted by bill at
08:48 PM
|
Comments (1)
A Wedding in Portland
The Mountains Surrounding Bozeman - Montana


On Monday morning, the 2nd day of 2006, we loaded our car - a 1998 Passat - and headed west on I-94. It was cloudy, but not snowing. The temperature was a few degrees over freezing. We drove all day and stopped in Dickinson, North Dakota. The next morning, we headed for Ekalaka, Montana. I wanted to see some courthouse records about some shirttail relatives on my family tree. After an hour we headed back to I-94 and drove to Bozeman, Montana. I spent most of the morning, researching some of Betty's family. Then we headed down I-90 driving through Butte and Spokane and finally to Portland, Oregon, and to the home of my nephew, Bjorn. His home has been our home for the past week.
I continued my genealogical research. I went to the Portland Library and across the Columbia River to the Fort Vancouver library. I also visited Joanne Galloway. Her grandfather, Carl Falk, and my great-grandfather, John Martin Sundstrom, were first-cousins. Carl had a sister that also lived in Vancouver. She married a Norelius. Both the Falk and the Norelius families have roads named after them in Vancouver.
My brother Brian is Bjorn's dad. He arrived on Thursday night. It was great that he could make it out. We had a good time with him. The rest of the family arrived on Friday. Most stayed at the downtown Marriot. It was at the wedding that we saw everyone together. It was the first time that we had all been together in four years, and before that I cannot count the years. Everyone was pretty much the same as the last time I saw them, the one exception was my sister Katherine's daughter, Belinda. I was surprised by how much she has changed. When I last saw her four years ago, she was a bright, young tomboy who was deep into school and playing soccer. Now she is a stunning young woman who loves polo. It was an amazing transformation.
Shelby and Katherine
We had gathered for the wedding of Shelby Tyler Sundstrom and Katherine Rachel Loewen Robinson. Shelby is the son of my brother, Steve, and his wife, Ellen. The wedding was in a large old church in downtown Portland. I had not met Kate before. She was a lovely sight. The wedding was short and sweet. The reception was at a nice hotel down on the Willamette River. The food was excellent, the wine was very good, and the company was wonderful. My pictures from the wedding and the reception will have to tell the story. Here is a list of family not mentioned above: Sid and LaVera Sundstrom, my parents; Ann and Clara Teitel, my sister and her daughter; Ed and Sara Baggenstoss; Shelby's brother and his wife; Annika Sundstrom, Bjorn's daughter; Dawn Sundstrom, my sister; Dain Sundstrom and Marleta Young, my son and his partner.

| | | | | |
| --- | --- | --- | --- | --- |
| Shelby, Groomsman, and Ed | Belinda and Dawn | Clara and Annika | Dain and Marleta | Ann |
| Bjorn | Steve | Katherine and Belinda | Annika and Clara | Dawn and I |
| Ed, the Best Man | Ellen Dancing with Shelby | More Dancing | Cutting the Cake | Enjoying the Night |
Belinda, Brian, Ellen, Sara, Steve, Dawn, Kate, Shelby, Eddy, Sid, LaVera, Katherine, Betty, Me, Bjorn and Annika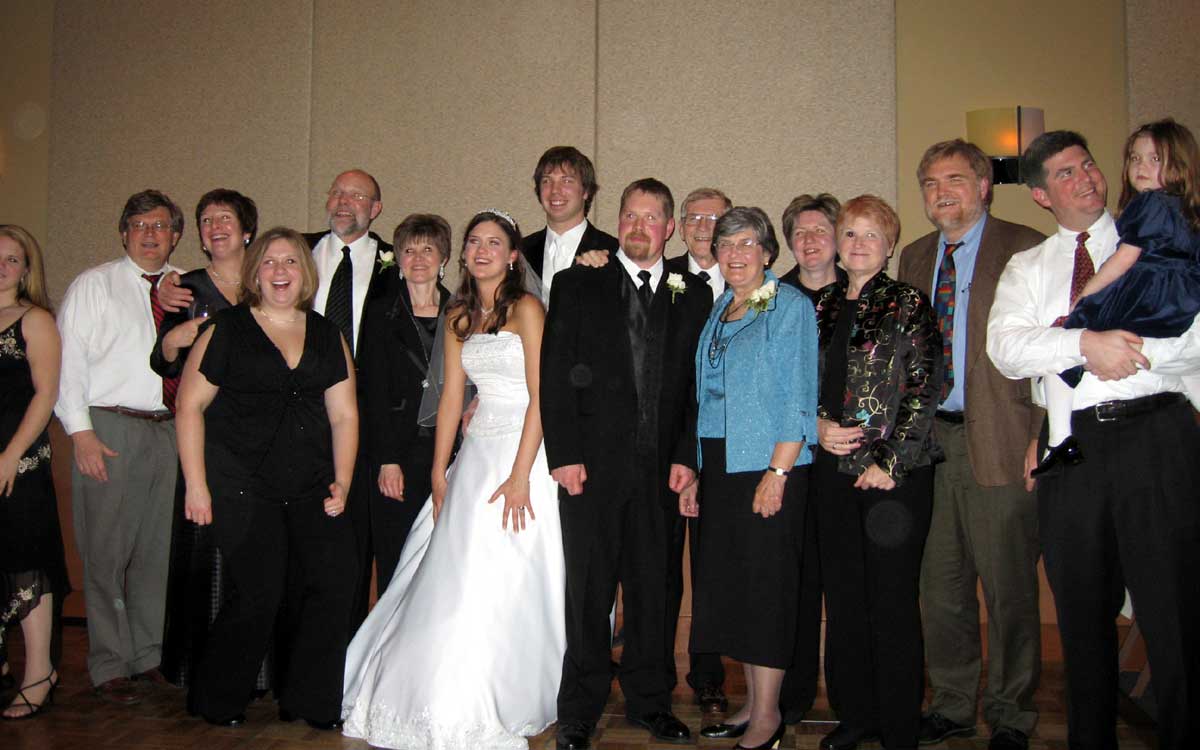 The newlyweds went on their honeymoon on Sunday. Steve and Ellen went to the Oregon coast. Brian had to return early to Minneapolis, so he left that morning. Katherine and Belinda had early flights that day too. But the rest of us gathered at Bjorn's home. It was fun to be with everybody. We barbecued some steaks, drank beer and wine and had a fine ole time. Late in the afternoon I brought Dain and Marleta to the airport. By the time I got back, everyone else had returned to their hotels.
Yesterday, Betty and I got to visit with my good friends Lenin and Kelly. They have a lovely home in Beaverton. We only wish that we could have seen them sooner.
Today we are headed for the Oregon coast.

The View for Bjorn's Balcony of the Willamette River