Neighbors
Press HERE to see a slideshow of pics from around the neighborhood of Villa del Parque.

Fruit Store and Bucher Shop Across the Street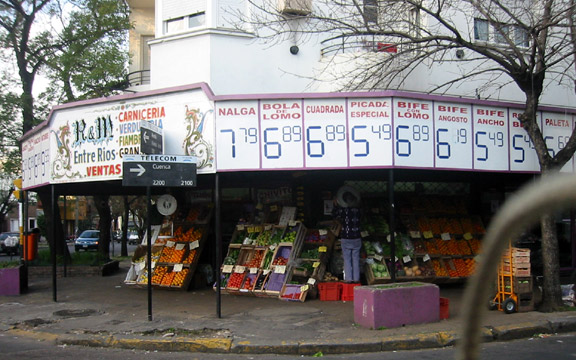 Another Fruiteria on Jonte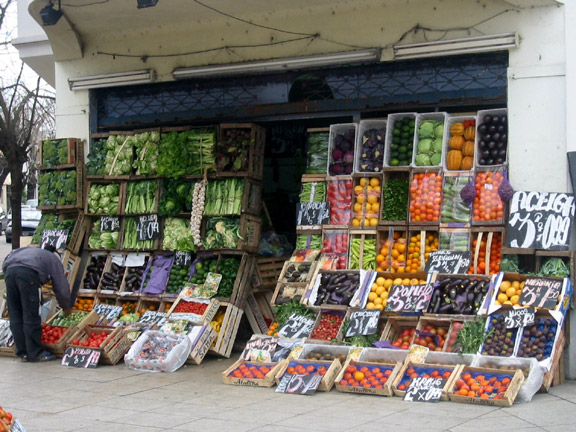 June has been a very quiet month for us. One reason is that we got sick along with a large percentage of the Porteños. We spent nearly a week in bed and then were still not totally with it for another week. Why half the people in the city seemed to be ill in June is a mystery to me. It was like a cross between the flu and a cold. We had more phlegm that we have ever had.
It has been cold too. We have a natural gas space heater on the first floor. Thank god, Javier loaned us another electric one for our bedroom. The most we can get out of the heaters is about 12 degrees Fahrenheit. The lows have been in 40's and highs around 60. We feel privileged when we can get the inside temperature up to 68. We have purchased more warm clothing, which helps.
We belong to a gym and go nearly every day. The cost is less than $10 a month. It is nothing special, just workout machines and aerobics classes. It gives us a chance to get out into the neighborhood. We walk by several fruit stores, butcher shops, flower stands, newsagents, and cheese and cold cut shops. When it comes to all these shops, every neighborhood is like ours.
We have also been out to the English club a couple times. We saw two movies: Mr. and Mrs. Smith and Batman. The Smiths were a bit comical. It wasn't for me, but Betty enjoyed it. We both loved Batman. We also went to the Mataderos Fair again. It is a great Sunday event. I love the street music and dancing. Their handicrafts are interesting too. And the food is always enjoyable.
Betty is trying a bit of volunteer work. She worked last Saturday at a soup kitchen working in one of the many slums. Then on Monday, I went with her to teach English to the kids in the same neighborhood. The kids are sweet and smart. I enjoyed working with them. But their neighborhood is very poor.

| | |
| --- | --- |
| Flower Stand on the Corner | Butcher Shop Next Door |
| Nearby Parilla Chef | Lady of Villa del Parque |

Well, that is all I have to say about June. My birthday part is this weekend. Story and pictures will follow shortly.
Musicians at the Ferie de Mataderos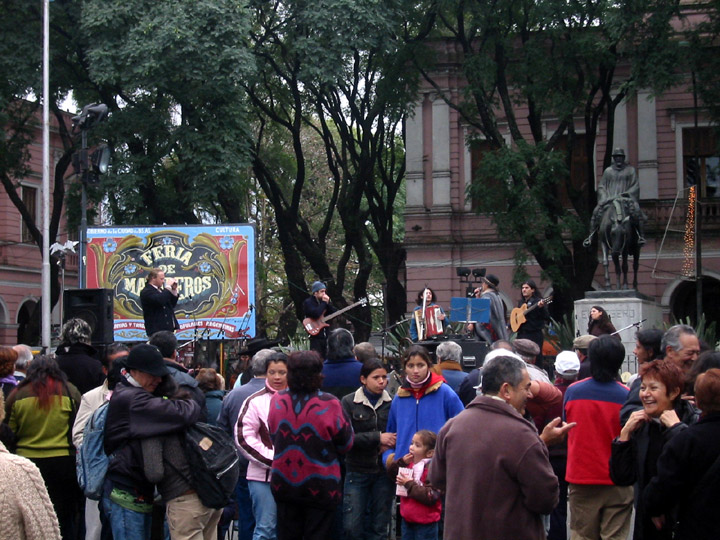 Posted by bill at
06:25 PM
|
Comments (0)