New Year's Eve in Necochea
Press HERE to see a slideshow of photos taken in Necochea.
The Beach in Quequén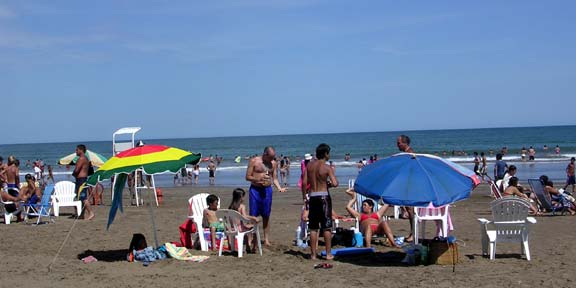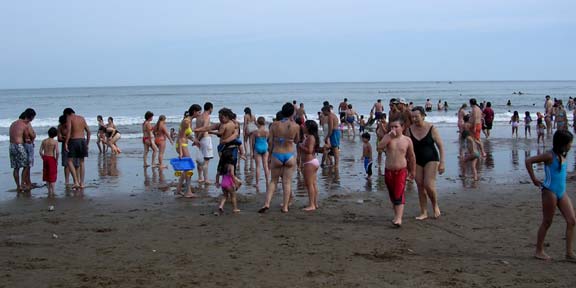 We left mid-afternoon on Thursday the 30th of December. We followed Javier south on route 29. Unfortunately, very few of the roads are marked; and, yes, Javier got off course. Even though this is his country, I can understand how this could happen to anyone. The detour added about 70 kilometers to the 500 kilometer trip to Necochea. The traffic was light. We even took a shortcut on dirt road. About an hour before we rolled into town, the sun set. Unlike some of the Argentine drivers, we turned on our lights. The truck traffic on this last leg of the trip was heavy and we found ourselves passing them. This would not be a problem, save for the low-light and no-light cars. One of the low-light cars looked far off. By the time we were just about around the semi-rig, we were just less than a second from a collision. It scared the hell out of me.
We went to Necochea, because this is where Guille is from and her mother lives there. First we tried to rent a cabaña across the river in Quequén. They were all rented, so Javier and Guille helped us find a hotel in Necochea. It was a lovely old building that was being rehabilitated. Unfortunately, our room did not turn out to be all that rehabilitated. But heck, all we really needed was a bed. We went out for dinner. As we walked about the town, I could hardly believe the change from three years ago. Of course, I had been there in the off-season. But still the place was bustling with activity. Hundreds of people were on the street, compared to only myself those three years ago. We found an outdoor restaurant, ordered beer and pizza. Guille had called her mother, Analía. She is a beautiful woman, about 50. Guille's father died about ten years ago. She arrived just before the pizza came to the table. We drank beer, talked and ate. While we ate, Analía's friend Louis, walked by. We invited him to join us. Before long it was well after midnight. Tired and ready for bed, we head back to our antique hotel.
We moved to Hostería Rio Colorado. It was very nice and cost less, only $17 a night. During the day on New Year's Eve, we laid on the Beach in Quequén. It is a lovely beach that is somewhat sheltered by a gentle bay. Our skin did not color much, because we were using SPF 45. Still it was a great day. To me, the water was a bit cold, but Javier said that it was warm for Necochea. It was the temperature of Minnesota lake in mid June, cool but not unbearable. When we returned to the hostería in the early evening, I talked to my friend Carlos Marti by telephone. He invited us to join him for an all night fiesta at the lighthouse. I had to decline as we had already made other plans.
We had been invited to a celebration at Analía's home. We arrived about nine. Guille's cousin, Gabriella, also joined us. We had a wonderful meal with chicken as a main course. The wine and the beer flowed freely. As the first moments of the new year drew near, the fireworks began to explode on the streets. Finally, it was the New Year. We did not sing Auld Lang Syne, but there was dancing in the street. To my surprise, Betty joined the dance. The fireworks works were expansive and totally unplanned. No big display, just tens of thousands of families lighting them off. Some of the rockets were great, but nothing like a good 4th of July display. Still with thousands letting them go, it was impressive.
About one in the AM, we drove back to the center of Necochea. Betty went to bed, while I joined Analía and Gabriella for drinks at a beachside bar. I left the ladies about three in the morning.
| | |
| --- | --- |
| Analía and Javie | New Year's Eve Fiesta |
| Dancing in the Street | Little One's at the Fiesta |
On New Year's Day we took our time heading back to the beach. We spent about four hours in the later part of the afternoon enjoying the beach with Javier, Guille, Gabriella, and Analía. We had been invited to see the sunset at the lighthouse. The climb to the top of lighthouse was exerting, but the view was fantastic. After an hour at the top, we descended to visit with Carlos and his family. Carlos had seined little fish that morning; we ate them, drank beer, talked and talked - mostly in English. One of his son's had been an exchange student about eight years ago and spoke excellent English. We looked at pictures of the family and learned what we could of their lives. It is clear that life is tough for the young in Argentina. If you are lucky enough to get an education and a job, there is still no guarantee of a good wage. And in case, I did not mention it before a good wage is about $700 per month (or 2000 pesos).
| | |
| --- | --- |
| Nechochea at Sunset | Inside the Lighthouse |
| At the top of the Lighthouse | Friends Forever |
Sunday We started the day with a drive in the country to a little town called La Dolce.
We spent the rest of the day with my friend Miguel Vasquez and his wife, Susanna. We sipped on wine, nibbled at sweets, and talked and talked - all in Spanish or Castilian. It is a lot of fun to get to know how life works for folks in other lands. Before the crises of 2001, Miguel had been doing quite well. He sold aircraft hangers mostly and, I guess, some other sorts of prefabricated buildings. Since 2001, he has not really worked. This is just the opposite of what has happens for most people with unemployment rates dropping from 24% to 14%. The problem is the aircraft business has gotten three times as expensive. Aeroclubs have seen huge drops in the number of pilots flying, because costs have gone out of the reach of most pilots. With people not flying, there has not been income flowing in and nobody has been building hangars. Thank god, Susanna has had a good and regular job working for the local electrical utility. Their children are doing well. Juliet is teaching in the USA until next summer. At the end of the day, we all went out to a parrilla for meat.
Last Look from the Lighthouse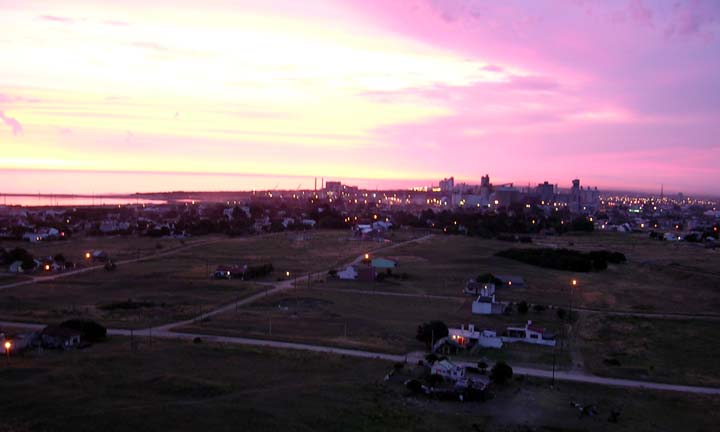 Bill at the Shell Museum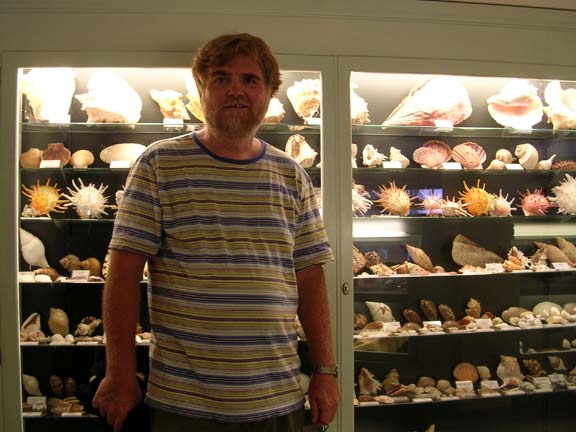 On Monday the 3rd, we left about noon and headed to Mar del Plata. It was a lovely drive along the coast. We took a room near the center of the city. High season price was $30 a night. We went to the sea shell museum, Museo Del Mar. I know it is unusual, but I really like this museum. The collection is huge and the shells are beautiful. In the evening we ate at a German style restaurant. The sign said that is was a cervezaeria, so we expected a large selection of good beers. We were sadly disappointed, because all they had was Quilmes draft beer. After dinner, we caught a movie - Bridget Jones 2.
On Tuesday, we did not go to the beach as most folks do in Mar del Plata. Instead we went walked around the town and did some shopping. In the evening we went to a Tango show at Ville Victoria.
On Wednesday we drove north. We checked out several towns including Ville Gesell and Pinamar. We stopped in Mar de Ajo, because it was quiet and easy going. The hotel even had a pool and only cost $22 per night. We made a beeline to the beach late in the afternoon. The next we spent the whole day in the sun, mostly at the beach. We used SPF 8. This turned out to be a mistake. Not because the burn was painful, but eventually we shed large patches of skin. After several hours at the beach we headed for shade and beer at the poolside of the hotel. We ate both nights at a nice restaurant on the corner, a block from our hotel.
The Beach at Mar Del Plata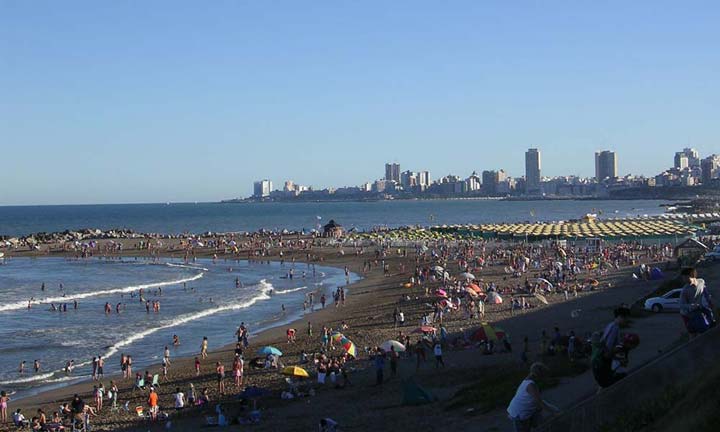 On Friday we drove back to Buenos Aires. We were glad to see that in the garden pretty much all was well. The only thing damaged was a few basil plants that died. I was glad to see that the peppers that I planted finally sprouted.
We spent the last two weeks doing almost nothing. We did paint the rest of the house. We started with the dining area and the entry hall. Betty did not like the entry color, a pale pink. So, she ragged on a dark purple red over it. The contrast was too great, so it looks a bit odd. I like it, she doesn't. She will probably paint it again. I have to admit that I am sick of all the painting, even if the house really looks great now. We asked Javie and Guille to look at it, but they have never seen a rag-roll before. So, they did not like it much. Oh well, we will put that painting off for a few weeks.
That is all I have to say for now. I will try to write more frequently this next month.
Posted by bill at
01:58 PM
|
Comments (2)