Return Buenos Aires
La Acacia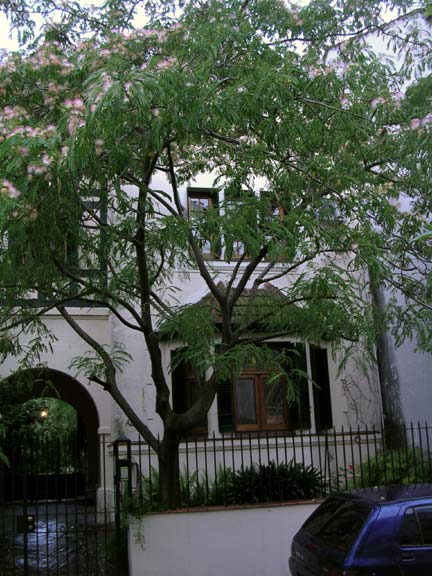 On the 19th of November, after two-and-one-half years I returned to Buenos Aires. The eleven-and-one-half hour flight from Chicago was uneventful. Although the seats in the economy section were a bit hard, we slept well. We arrived about noon. Now, this is a good time to arrive in most cities. It gives you some time to find a place to stay and figure out the transportation. I decided to rent a car from Avis. I thought it a bit pricy at $43 per day, but it was good enough until I line up something else. A car really isn't necessary here, except that we had so much luggage this time it was almost a necessity. And besides all that I love having a car. We picked out a couple of places to stay in Belgrano. Neither worked out, but at the second, we were referred us to a B-and-B that has turned out to be a gem. It is called La Acacia. We must share a bath and other than an adequate breakfast of toast and coffee there are no other amenities. The ambience is fabulous and the cost is only $20 a night. We love it!.
We connected with my old friend Javier and his wife, Guillermina. She was tutoring a high school student while we chatted with Javier. After an hour Javier had to go to his Chinese class. Betty and I head back to Belgrano and a bit to eat. Betty was exhausted from the travel so she fell asleep fairly early. I waited for Javier to come after his class. We had first talked about going to a neighborhood social club. Instead we met Guille and a girlfriend of hers. We all headed for a Chinese restaurant. They still hadn't had dinner and it was after eleven. I had some egg rolls as we all talked and drank beer. When we had finished I was too tired to do more. So, I went back to La Acacia to sleep.
Betty and I started Saturday by checking out a downtown neighborhood where we knew of a large old apartment for rent. The neighborhood was not quite what I was looking for. Since we were close to Recoleta, I thought Betty and I could spend a couple of hours browsing the hundreds of artist booths that get set up in the park every Saturday and Sunday. The artist and craftsmen bring their art and wares to show and sell every weekend. It is like an Uptown art show every weekend.
From here we visited Javier and Guille. My initial thought was to stop and make arrangements for the evening, but we ended up staying and talking and looking at the want-ads together to learn what all the ad language meant. Then we hiked through their neighborhood to check out the windows of rental offices. By the time all that was done it was nearly time to go out for the evening. Eventually made our way to a local social club where the children play games on the basketball court during the day and adults dance the tango to the wee hours of the morning on the weekends. I think it was 9:30 when we arrived. We ate diner, nothing spectacular but it felt good. Very, very slowly the tables began to fill. Now nearly every table had been reserved and by midnight they were still not all filled. The folk that came were mostly over 50. They all loved to tango and looked good as they danced across the gymnasium floor. There was a rhythm to it all: three tangos and then a quick break, then three more tangos. Betty and I were pretty tired and left not long after midnight. More people were streaming in and the crowd was getting younger. I like the way they dress up for these weekend outing. I felt a bit out of place in just blue jeans and a t-shirt. Javier told me the next day that someone had told him as we left that we were going to miss the show. I regret missing, but I guess there will be many more Saturday night to see the show.
Recoleta's Sellers of Arts and Crafts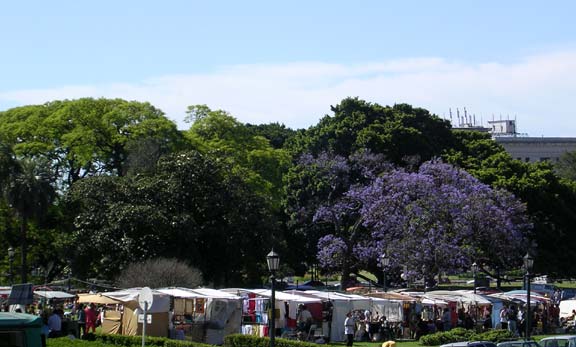 A Toymaker in Recoleta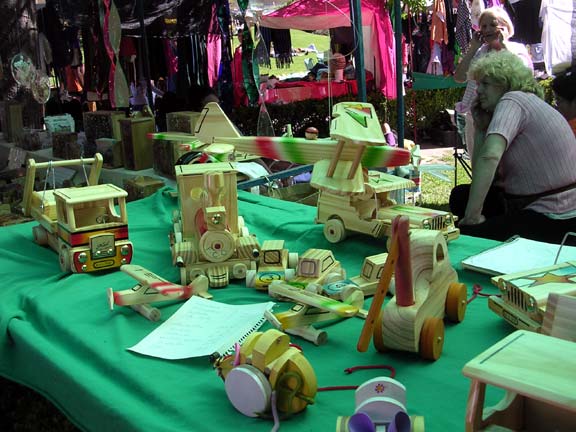 Theater of the Fool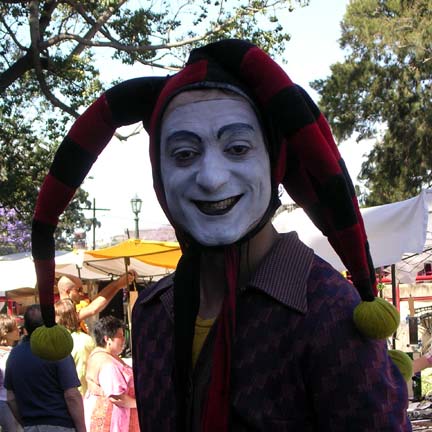 We had talked about going to the San Telmo flea market on Sunday. I figured that it may be more prudent to do that on another weekend. I had Javier for a couple of hours, so I asked him to bring me to a car lot to see what is available. The used car market seems a bit expensive here. Compared to back in the USA or even my experiences in New Zealand and the Czech Republic, there does not seem to be any $2000 cars available. Even $3000 seems to be about as low as they go. At least I discovered that a couple of cars that were thinking about were just too difficult to dive.
When we got back to Javier's home, he had to do some work. We were in luck with Guille. She and Betty had been check out ads while Javier and I were looking at cars. Guille was willing and able to accompany us to check out several houses to rent. In case you are wondering most of the places we were considering cost between $250 to 500 per month. The really grand homes start at $900/month. It is not that easy to rent here, because most homes and apartments are owned. The purchase prices seem high for the typical Argentinean. Part of this is because of the devaluation. Most homes had been purchased under dollar contracts and mortgages. So after the devaluation, real estate quickly rose in peso terms to nearly the old dollar terms. That means that in pesos most real-estate has gone up nearly three times in the past three years. In any case, thousands of apartments and houses are for sale and only a hundred or so are for rent in this city of ten million people. The very first one that we visited had just been rented. We asked to see it anyway, so that we could get a sense as to properties. The owner, Sondra, was very kind and showed us around the place. God it was nearly perfect with three bedrooms, and tiny yard and even a party room with an Argentinean wood-burning barbecue area in the party room. She took our names and numbers, just in case the proposed renter could not provide a proper guarantee. A guarantee is a voucher from a property owner or rich old uncle to pay the rent, if the renter does not. We looked at two more, both in a great neighborhood. One was $550 a month and gorgeous. Its only draw back was no yard. It had two fireplaces: one in the living room and one in the master bedroom. The other was situated in a terrible location, some twenty-five feet directly in front of one of the commuter train lines that run all the time. It too was very nice and only cost $330 a month. We were done with the looking and took Guille home. It was the evening now, Betty and I found a nice local restaurant, of which there are so many in the Belgrano neighborhood. Shortly after we returned to our room, we got a call from Javier. It seems that Sondra was very interest in letting her house to us and asked us to call her, which I did and set up an appointment for five the next afternoon.
Monday was a very fruitful day. We began the day by trying to set up appointments to see houses. Despite my bad Spanish and that the weekend was over, we were still able to set up several appointments. About noon we drove over to an agent's office for one of the houses we saw the day before. We made offer for it, but we did not expect them to take it. She promised to check with the owner and get back to us later that evening. Then we drove to a neighborhood that had some to show. Lacking an appointment, we still got into one. Despite being on a great block, it was not a nice apartment. The next one we visited was great. It was a brand new rehab with two bedrooms for about $300 a month. I loved it except for lacking a yard. The next place was not ready for occupancy. At a quarter to five we picked up Javier and mad our way to Sondra's home. We decided to not wait on the response to our earlier offer and take her place. It is just great and she will be a good landlord. It feels good to have a place. We should be able to move in next week sometime. We dropped Javier off and then we went out for dinner. The food was much better than the Sunday night fare.
So the car search will continue in the next few days. If we find something we will let you know. Look for a new BLOG entry once or twice a week.
Posted by bill at
08:52 PM
|
Comments (1)