The Mayan Kingdom in Tikal
Press HERE to view a slide show from
Tikal and Rio Dulce
The Streets of Flores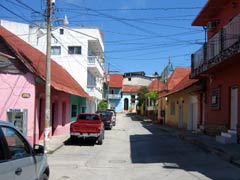 Tikal's Structures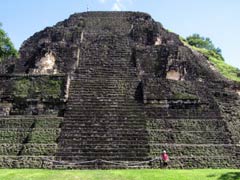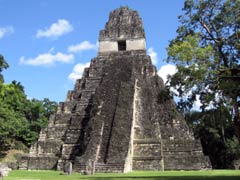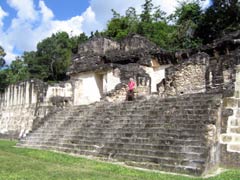 Tikal's Animals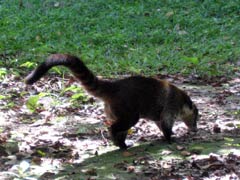 Blackbirds in Flores
We had heard awful stories of crime in Guatemala, especially stories about buses and vans being stopped by armed gangs that would rape and rob the passengers. We also heard stories about crazy bus and truck drivers that created danger on the highways. Finally we heard stories about terrible roads that could turn impassible with a light downpour. I am happy to report that on our journey to Tikal we saw none of it. There were enough police to stave off the robbers. There was only a moderate number of trucks and fewer buses. And except for a couple of rough spots, the two-lane road was better than most in poor countries.
We rented a car for a week at $30 per day. Both convenience and the cost of bus travel drove us to this transportation alternative. Gas is still over $3 per gallon here, but our rental gets about 35 miles to the gallon. We got the car and were off by 9:00 AM Saturday morning. We got to Flores just before dark some eight hours later.
Sunset in Flores


Flores is about an hour south of Tikal. It is a lovely tiny city that lays on a small island in Lago de Peten Itza. The town is loaded with little hotels and guesthouses, not to mention a good number of eateries. Many of these establishments are on the lake's edge with great views. It appears that where ever tourist go food prices are a tad higher than you might expect in say Mexico. Hotel rates are by the person, so they are rarely an excellent bargain for two people – one yes, two no. For two the cost starts at $12 per night, with no breakfast, no clean drinking water and no wi-fi, but they usually have a TV and AC – although you do not need the AC now. Betty and I stayed at a nicer hotel for about $27 per night. Flores is very comfortable. We took it easy on Sunday. Betty was not in top form; something she ate did not agree with her.
On Monday we drove to Tikal. Tikal is a world heritage site. It is an archeology site that is equal in scope to the Incan Machu Picchu. Tikal is a Mayan ruin. It covers a large area with many buildings and at least five temples that rise 190 feet, 18 stories, and are totally incredible, given that they were built 1000 to 2000 years ago. Take your time viewing the photos and remember that they are only thumbnails. So, click on them and see a lot more than what is in the thumbnail. Besides the ruins, Tikal is an amazing jungle sanctuary. We saw exotic birds, a roe deer, coatimundi (Central American raccoons), and another odd looking giant rodent. We returned to Flores late in the afternoon, totally exhausted. For the second evening we went out to see the sun set in the hills beyond the western edge of the lake, a stunning view.
On Tuesday we traveled to the Rio Dulce, which is more of a lake than a river. The lake is called Lago de Izabal. We invited Peg, a fellow traveler, to join us on our trip south. She gladly accepted and we had a great conversation during the three hours to Rio Dulce. She is a lot like Betty and me. It was good to talk books, politics, travel and life. When we arrived in Rio Dulce, we decided to go upscale for a few days. Our plan was just to take it easy. Unlike the coolness of Antigua, the heat and sun in Rio Dulce was a lovely change. We just wanted to suck it all in. Our hotel, Vinas del Lago, had nice rooms, a good kitchen, beautiful grounds, a swimming pool and wi-fi. Wednesday and Thursday were all rest and relaxation. Oh, there is a great tourist site just 300 meters from our hotel. El Castillo de San Felipe is a old fort that protected the lake from pirates and allowed Spain to extract taxes from shippers. The fort was rebuilt and preserved some fifty years ago. The fort really gives you a good sense of a new world outpost. The grounds around the fort are lovely. Many families played on the shore and in the water and ate picnic lunches. Other than this short visit, we have just taken it easy – sunning, swimming, eating and drinking.
We are off to Guatemala City now. I will try to post something next week.

Tikal: Towers Rising from the Jungle Floor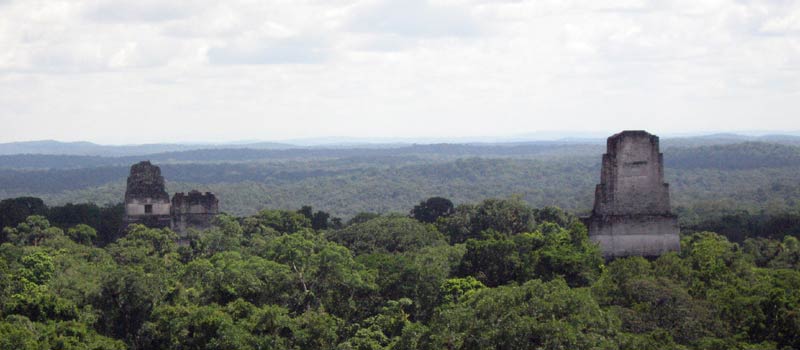 Posted by bill at November 7, 2008 08:23 AM