October 31, 2008
Study with No Eruptions
Press HERE to view a slide show from
Our Two Weeks in Antigua
Betty with Judith and Elva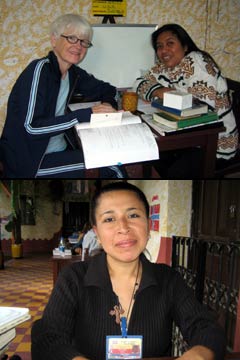 The Gonzalez Family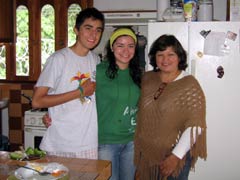 With Julia, Sandrida and Ruth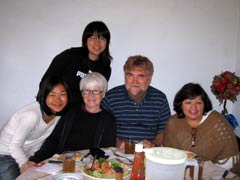 I mentioned in my last entry that we moved from one family to another. Our new room is much nicer. We have internet in the house, which is unusual and something we crave. The food was a lot more interesting in our first family, because it was much more typically Guatemalan food. Other pleasant changes include the teen-age children, Leonel and Marisabel, of our hostess, Ruth Gonzalez. Another has been the addition of a couple of other students. Sandrita is a 30-something Taiwanese women who is studying Spanish and how to dance the Salsa. She is just great. Julia is Korean and has been working mostly and studying for more than three years in Guatemala. So, the change has been mostly for the good.
We have been studying a lot, holding our nose to the grindstone. The effect has been pretty awesome. I have recaptured most of my Spanish and have broken new ground to learn quite a bit more. Betty's instructor is Judith. She has a master's degree in teaching and has been a great help to Betty. My instructor is Elva. She also has a teaching degree. She has been great, even outstanding.
We have gone out a bit, especially on the week-ends, to eat and drink at the local bars and eateries. Wednesday was particularly busy. We visited a coffee plantation after school in the afternoon. And I went out to hear some Cuban music at Riki's Bar>. The band leader was Nacho Barell, who is said to have been a member of the Buena Vista Social Club – a rather famous Cuban group. I could not confirm his membership in that band, but I can confirm that his current band is quite good.
The rain ended, so we have been able to view the Agua Volcano with much clarity. The locals say that it has not been active in their lifetime. That could be and we have seen no smoke, nor lava flowing down the mountain side. So it has been great studying with no eruptions.
That about does it for now. I hope you enjoy all the photos.
In the next entry you can expect photos and stories from other parts of Guatemala.

Studying at the Sky Bar without Eruptions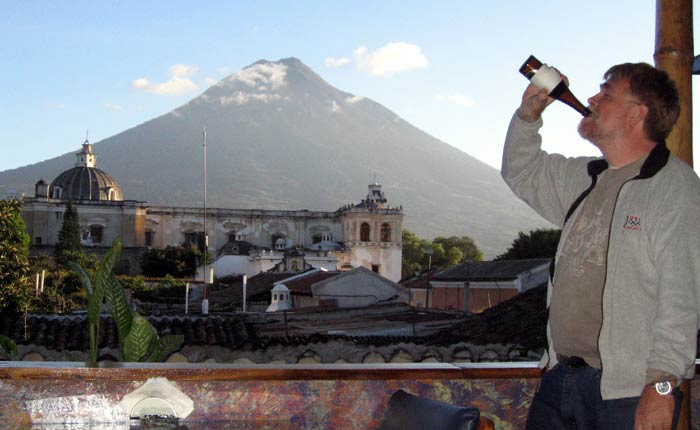 Posted by bill at October 31, 2008 02:22 PM