Proud of Birgitta
| | |
| --- | --- |
| | SUNDSTROM041106 |
Published: April 11, 2006
Birgitta Sundstrom:
See what immigrants have done here
In my part of south Minneapolis,
they planted flowers, opened new businesses,
and year by year made things safer and better.
Birgitta Sundstrom
Since when has our state had a problem with illegal immigrants? As a letter carrier for five years in south Minneapolis I have seen what illegal immigrants can do. I watched neighborhood after neighborhood clean up because of illegal immigrants. Bloomington Avenue, 15th, 17th, Pleasant, Pillsbury all went from brown and sad-looking to green and blooming. I watched mothers and fathers working four jobs and paying taxes teach their kids the real value of a dollar. I have seen the "American Dream" really happen, time and time again. Which illegal immigrants is Gov. Tim Pawlenty actually after? What is he trying to stop here? Has he even walked around Powderhorn in his life? When I was a kid our family lived on 33rd and Portland. In 1979 my parents moved my brother and me to Bloomington after our house was broken into for like the third time. The neighborhood was bad. It was dangerous. Fourth Avenue was infested with crack and violent crime. My parents loved the city, but they had kids and needed to do what was best. Then in 1994 I moved back. I bought my first house in Powderhorn for $54,000. Over the years that I lived there I watched the neighborhood change. Every year it became a little bit safer. In seven years' time my duplex tripled in value. I thank all those dangerous immigrants who moved into my neighborhood. I thank them all. Not for the revenue or taxes, but for bringing back the beauty of south Minneapolis. For cleaning up a neighborhood that no one seemed to care about. For growing grass, for planting flowers, for opening new businesses, for coming to America and making it better, I thank them all. So the next time you're in an immigrant neighborhood, stop and really look around. See what immigrants have done for Minnesota. I say Minnesota should create its own immigration policy and welcome more people who care where their kids are raised and dream of a better life -- a better America.
Birgitta Sundstrom, Bloomington, is a student at Metro State University.
©2006 Star Tribune. All rights reserved.
We can be proud of our children for all kinds of reasons. We are very proud of both of our children, especially now that they have become such wonderful adults. They are very much imbued with the values of Betty and me. When we see those values in action, we get even prouder.
Birgitta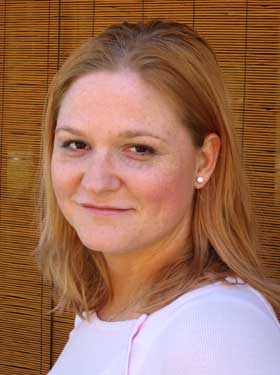 We are always talking about writing letters to the editor, but rarely send something in. It was to our surprise and delight to discover that Birgitta sent an op-ed piece into the Minneapolis StarTribune. The Strib not only liked the piece but they also published it on the 11th of April and they paid her for it.
We both agree with her opinion. Like her we have seen the marvelous things that Mexican immigrants have done for the Twin Cities and the Midwest. Like her we value their contribution to our region and the United States. Like her we find the politicians that attack Latin American immigrants to be disgusting fear-mongers.
We always knew that Birgitta had the talent to be a great writer.
We hope that she continues on this path.
You can read her op-ed piece on the right side of this page, where I have reprinted it.
You can also find the piece of the StarTribune web site.
If you have not read it already, I hope you will take the time to read it now.

Posted by bill at April 25, 2006 02:22 PM