Back to the USA
The past week has been all about getting ready to leave and saying goodbye to Argentina and our friends.
Bitch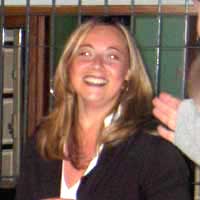 People came by to pick up the things they bought in our online moving sale.
Ingo and Elisa came by. They got a few extra things. Like all of our friends, we will really miss them. Others came to take the vacuum cleaner, easy chairs, a sofa and straight chairs. Finally on Saturday, the futon went to Pablo Laurito and our bedroom set was pickup by Arturo, Marisol's son.
The strangest part of the selling our stuff came on Thursday. While I was out with Daniel, Paula came by to pick up a small table, Betty's bike and the kitchen stuff. I had met Paula at a Talkarama meeting, she seemed nice and had come by early in our sale to claim the items. She had also been at our big party the week before, having enjoyed our hospitality greatly. Betty had gotten everything ready and it amounted to several boxes. Paula's friend got it all for 100 pesos and we had paid several hundred pesos for originally. I had asked Betty to only keep one pan, so that we might be able to cook on our last two days. Paula saw the pan we held out when she first came. She went off on Betty, when she did not get it. She insulted Betty up one side and down the other. She even began to try to say some mean things about me. She was a total bitch! In Argentina we are known as very generous and loving people. Betty told her to get out of the house and if she didn't want the gear, just to leave it. Finally she took the stuff and left. What a bitch!Betty was quite upset. She is not used to people calling her stupid and evil and a liar.
Press HERE to see a slideshow of our final month in Buenos Aires.
| | | |
| --- | --- | --- |
| Bill, Betty and Bebe | Bill, Ernesto and Brad | Laura and Her Dog |
| Savino and Bill | Bill, Laura and Brad | Laura and Bebe |
One day I made it by the gym to say goodbye to my trainer Daniel. I had not worked out for a month. I have put on some weight in the past month. I should not have quit. My only excuse is that we have been so busy with all the last minute visitors and getting read to leave.
On Wednesday, the 9th of November, we met with Maria Ines and her son. Luke had asked us to join them as he looked over her apartment for a possible rental in the future. It was great to see Maria Ines and Nicolas for the last time. After the meet, Luke and I went out for lunch in Palermo. I love that neighborhood. It would be the last time I would visit it and it would be the last time I will see Luke in months to come.
Later on in the evening, we had dinner with Laura's parents - Beba and Savino. Her brother, Ernesto, and her friend, Brad from Arizona, also were there. The food was fabulous. It was Ukrainian food, varenki with chicken broth - along with some good fried chicken. I had not enjoyed a meal as much as this in months. You might ask why that is. Simple, I love ethnic food, which is a rarity in Argentina, and it was so wonderfully prepared. It was a great night with family and good conversation. We could not have asked for more.
On Friday night we visited Pablo Laurito's house where he lives with his parents, Mario and Maruca. Our friend Daniel was there as were Elizabeth from California, and Pablo's mom's cousin, Mónica and her boyfriend, Matías. Pablo lives in a suburb that I think is called Hurlingham. It seemed like it took forever to get there, probably because we took surface streets. Their house is new and beautiful. We had a wonderful meal. Particularly great was the homemade lasagna. We also ate way too much: chicken, salad and strawberries for desert. It was wonderful. We had a fabulous night with good people.
About mid week the packing and getting ready was in full swing. We were pretty stressed all week long. Trying figure out what to keep and what to leave behind was not so easy. And most everything needed to be left behind.
Saturday was moving out day. We were packed and all the things that we were giving to Javi and Guille were boxed up. We sent our last email messages and made our last call to Birgitta on the VOIP phone. I had wanted to go to the horse races, but I missed them. It was just too late in the day by the time we got to Javi's mother's house. Still we had a nice lunch and a nap.
Betty, Maria Luz and Bill


Guadalupe, Marita, Betty,
Maria Luz, Bill and Alberto

Saturday evening, we went to Talkarama. A train breakdown forced us out of the train and into a taxi, but eventually we made it. We chatted all night with our friends then had dinner and went home about 1 AM.
We had a lazy Sunday afternoon with Javi and Guille. Javi made an assado. How I love the meat in Argentina! US beef is good, but not up to the standard of Argentine lomo.
Laura stopped by for a last visit and to say good bye to us. She is one of the kindest and most openly friendly people we have had the good fortune to meet. We will both miss her.
In the evening we went to dinner with Alberto and Marita and their children: Javier, Maria Luz and Guadalupe. It was wonderful to be with them. We will miss them and their thoughtful conversations.
We rose at 3:00 AM Monday morning. We had a 6:00 AM flight to Sao Paulo. Everything went well, getting there and getting off on the first stage of our return home. Two hours later we were in Sao Paulo. An hour later we were on our way to Miami. Eight or so hours later we were in Florida. The only hitch at the airport was the AirTran weight restrictions. We spent 20 minutes rearranging out stuff so that only one bag was over weight. It really pissed us off. The different standards that they had came as a great surprise. Four hours later we were on our way to Atlanta. Then we waited again to catch a flight to Minneapolis. We arrived about 12:30 AM in Minneapolis. It was 2:00 before we got to bed, some 28 hours after getting out of bed in Buenos Aires and 30∞C lower. It is cold here and it will take some time to adjust to it.
These will not be my final words on Argentina. In the weeks and months to come I hope to write a series of commentaries about the country. They will be available at my web site.
Posted by bill at November 15, 2005 01:37 PM