More Fun
Press HERE to see a slideshow of
photos covering this and three other entries.
Santeri, Carla, Steve, Bill, guy, Esteban, Ullie, & Päivi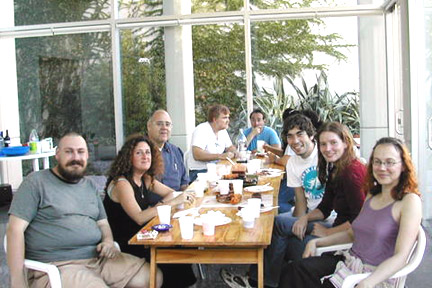 There has not been much going on in the past two weeks. Steve took off for Cordoba. I guess he had a great time. Betty wasn't up to the trip, so I hung with her. We had a good week. I took Guille and Javier out to the airport, so that they could take a week or so in Brazil. On the weekend, we saw an American film, Hitch.
Steven came back on Sunday. We went to the house warming of Päivi and Santeri. They got a nice flat near Belgrano. The place has a pool and sauna, which is up to Finnish standards. They barbecued chicken and pork and used a spicy South African sauce that I loved. A good number people from the English group were there. I drank much more than I usually do. You could say that I was drunk. I climbed in the sauna. The temperature was just below the boiling point. Santeri and I jumped in the pool to cool off, just perfection! Unfortunately, we upset some of the other residents in the condominium. How they even noticed our nude bodies flying into the pool in the two seconds we were in the open is beyond me, especially since none of them were anywhere around. Steve and I both got a chance to talk to Laura Battaglia. I had not seen her before but she does occasionally go to the English club. She is a translator and will be visiting the USA later this year. I mention her in particular, because she was good enough to supply me with the photos posted in this BLOG entry. Anyway it was a great time.
Steve and I will probably head out for parts unknown in the next couple of days. He just has ten days left before flying back to the states
| | |
| --- | --- |
| Bill, Daniel, Guilad and Monica | Party Goers |
Posted by bill at April 19, 2005 03:20 PM