Christmas in Tango-Land
Press HERE to see a slideshow from December in BA.
Christmas Eve Puzzle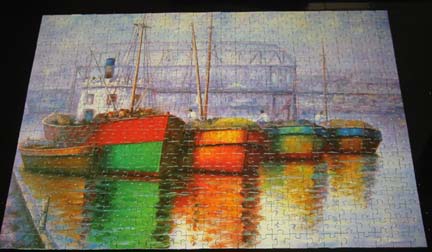 At the Grill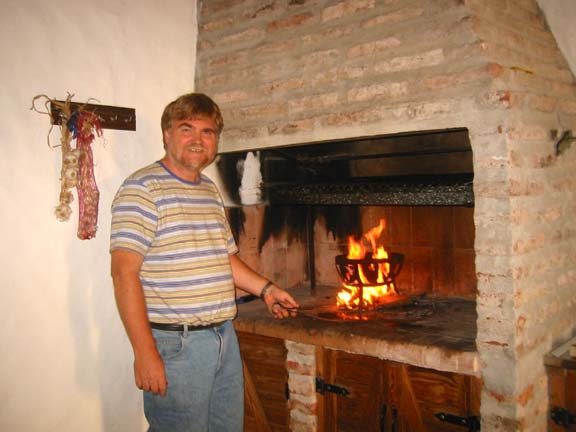 Today is Christmas Day. It is hard to think of it as Christmas time. I would say that the near perfect weather here does not at all bring Christmas to mind. The carols in the stores seem out of place. Appropriately, I guess it is more like Christmas today, than any day so far. We woke up to 60 degree weather with rain. We have bought and sent no gifts. Betty says that it is the first Christmas in 30 years that she could do absolutely nothing. No stress from the huge volume of mail for her this year. I mentioned before that this is a land of beef. Chicken can be found even an occasional small turkey. The pork is all Italian style. By that I mean that the hams and most of the bacon is not smoked. I have not been able to find a traditional northern European ham with the bone and skin. There is low-grade boiled ham, and better smoked ham, which is more or less the quality of average ham in the stores back home. I will keep looking, because it is bound to be here someplace. I only mention this because I wanted our usual Christmas diner of baked ham with Betty's plum glaze and with cheese potatoes served on the side. We are going to try to do the cheese potatoes, but there will be a problem - here they do not know what sour cream is. So, we will experiment a bit. Instead of the ham, I will be grilling steaks. Now the good beef is out of this world. A couple of weeks back, we bought the most expensive beef we could. It was a large piece of tenderloin weighing about two-and-one-half pounds. It cost a mere $7 and it tasted better than any beef that I had eaten in years and maybe ever. Today we will have rib eye steaks. We will be drinking a good Malbec. We found one that costs $3.50 that tastes as good as any $30 bottle of wine back home. It is a 2001 reserve produced by Tittarelli. Unfortunately they don't export this vintage to the USA. Luckily enough, we bought more than a dozen bottles of it.
Traditionally, Christmas is celebrated on Christmas Eve. Families gather together for a light cold meal with wine and beer. Then at midnight, there begins hours of fireworks. They seemed to roar continuously throughout the city with explosions of light and sound all around our house and in every neighborhood and every city in the country. Our Christmas Eve consisted of our friends Javier and Guillermina coming over for lunch. We chatted and munched on a salad and sandwiches and watermelon all afternoon. In the evening we started jigsaw puzzle. It was just 500 pieces, so we had it done by the early afternoon today.
Later today we will try to call Birgitta and Dain and maybe some more folks back home.
Influence of the Tango in San Telmo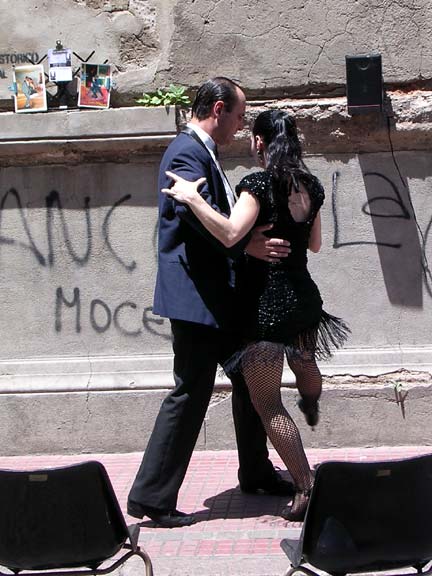 &nbsp &nbsp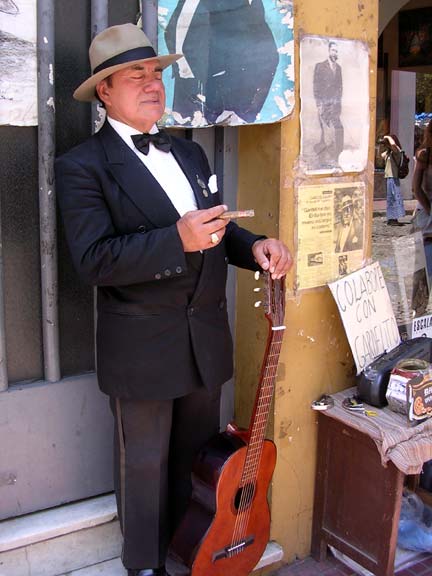 Every since we got here a month ago, we have clearly noted the influence of the Tango. We found a great radio station, La 2X4 Tango - 92.7 FM. Press the en vivo button at their website, and you can listen to it too. Whether you go to a tourist spot or just a neighborhood gathering you are likely to see the Tango and other traditional dances. Often a couple will setup a boom-box and just dance. They dance for tips and they dance to promote a show and they dance to get you to sit down and have a drink of some food. If you are lucky you hear the music live, which happens from time to time. There is a tourist market on Sundays in San Telmo; here you will find the Tango. In La Boca, a working class neighborhood with some tourist about, has several cafes along the river where you can find live music and dancers and a good meal. We went there to visit a museum and enjoyed a local musician playing and singing the Tango while two young couples entertained us with the dance.
| | |
| --- | --- |
| In La Boca | Colorful Boca |
| La Boca's Port | Boca |
| Art Abounds in La Boca | Crossroads in La Boca |
| Music and Libations in Boca | Tango Musician |
| Dancing the Tango | From the Museum in La Boca |
Street Dancing in Matadores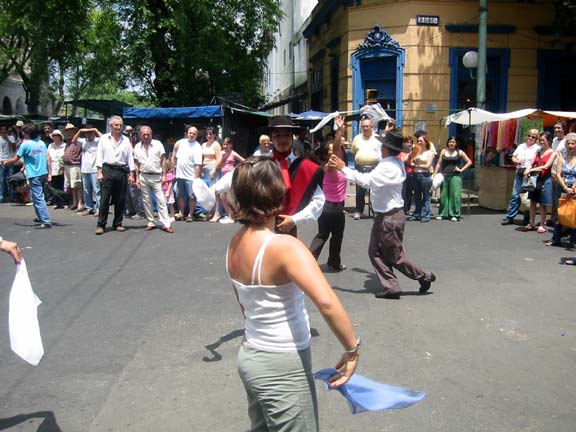 On Sunday - the 12th - we visited a market on the southeast side of the city with nary a tourist in site. The neighborhood is called Mataderos, named after the stockyard and slaughterhouse that ran there years ago. There was some good live music and traditional dancing. Those dancing were not pros, just neighborhood folk having a good time. We also bought some used silverware and a nice cutting board.
We visited a social club when we first got here, that had Tango dancing all night long - with a show too about one in the morning. Lately I have returned to the dance club where I first learned to Tango, on Armenia street. It is called La Viruta Tango. Betty came with me one night. She is a hard one to get out. She took the first lesson and did just fine. I hope to get her back again. The first lesson is a bit intimidating, especially for women and for non-Spanish speakers. Still she did just fine. I will keep on going and learning, two or three days a week until I get it or I get bored. The latter is not likely, I love the music and I love the dance. There are some great photos taken at the club on the web.
We still do not have a houseful of furniture. We did find a great place to buy used pieces. It's an auction house for the ordinary folks in the city. I guess that there are several in the city. They sell everything from tools to every sort of household item, including furniture and appliances, to computers and electronic gear. Nothing is all that great, but it is all good enough. They begin with items that will sell for $2 to $5 dollars, and end with items costing as much as $300. We got a six-piece bedroom set for $270 that included a bed, two bedside cabinets, a dresser, a mirror, and small set of drawers that will hang under the mirror. We will be going back to get some living room furniture and a small bed for the guest room.
We have gotten out a bit. I have been looking into aero clubs and eventually I will join one.
Last Sunday, we drove some 40 miles to Luján. It is said to be the site of some miracle. Or it might be famous for the Virgin of Luján, a small - 2 feet high - terracotta figure of the Immaculate that came to Argentina in 1630. For whatever reason, thousands of pilgrims come here every year. A large and beautiful cathedral houses the figure and is the epicenter for the tourist and hundreds of vendors selling religious item. Near to the cathedral is a river. Along the river are amusement rides and pony rides, and boat rides, on of which we took. People come to the river's edge to enjoy the ample number of picnic grounds on Sunday afternoons. After a couple of hours here, we drove a bit further out in the country to a little village called Carlos Keen. We stopped to have a very late lunch or early diner. We ate grilled meats at a restaurant that were clearly the remains or leftovers of that day's luncheon menu. We thought the food was awful. We also drank a bottle of wine, and found that to be quite good. The ambiance was countryside rustic and very comfortable, except for all the fricking flies! There seems to be swarms of them in this farm land. The countryside here reminds me a lot of the Midwest, with big farms and rich farm fields.
| | |
| --- | --- |
| Luján Cathedral | Inside the Cathedral |
| Father and Son in Luján | Children on the Boat |
| Relaxing Along the River | Family Fun |
| Fishing | Paddle Boats |
Other than get a few pieces of furniture, we have not done much to the house. I put in a few tomato plants and some herbs. I tried to start some pepper plants, but nothing has come of them yet. We still need to paint the house. Our discussion of the color scheme continues. But it seems to be coming together.
Finally, I wanted to mention that Guille completed her undergraduate thesis and defended it at the university. With this and a few more courses she will have a degree. The degree will be more than the equivalent of Bachelor's degree, and it seems to me to be at a Master's level even though it might not be recognized that way in the US. She is a botanist and is looking forward to a PHD program in graduate school. I went to her thesis presentation, and the party they threw that night. We met a number of Javier and Guille's friends.
| | |
| --- | --- |
| Guille at Celebration Party | Bed and Side Pieces |
| Dresser, TV, and Painting | Garden Tomatoes and More |
Posted by bill at December 25, 2004 11:24 PM