Wuppertal
Press HERE to see a slideshow from West Germany.
Our Saturday Morning Breakfast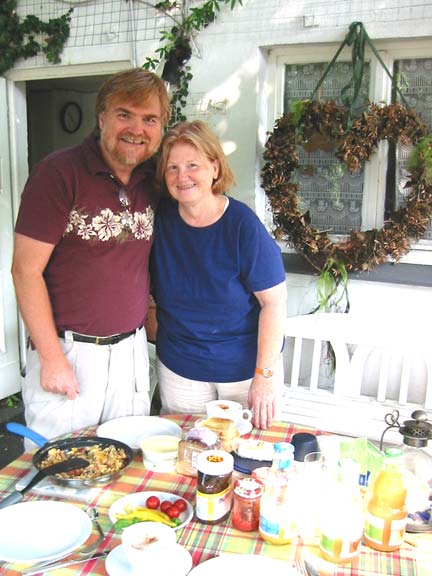 Last Wednesday, the last night in August, on our final day in the Czech Republic, we finally made it to the opera. Our seats were about 60 feet from the stage or about as far away as you could get. I thought they we pretty good, because the theater is not a monstrously large venue. Rather it was a smaller and more intimate theater that was very beautiful. We saw Aida by Verdi. This was an opera that he was commissioned to write and would have never written it, save that he had heard that his patrons were about to commission another - since he seemed so disinterested in writing it. The performance was pretty good. The cost compared to American venues was really very cheap at $16 each.
On the first of September we ended up waiting all day to take a late afternoon flight to Dortmund. It was the inauguration flight of the Prague-to-Dortmund route by EasyJet, one of the European budget airlines. As I mentioned before, the price was excellent at about $40 each. We finally got on the plane about 4:30 in the afternoon and 90 minutes later we were in Dortmund where my friend Heike was waiting to pick us. We were really looking forward to this visit as a time to take it easy and get ready for our flight back to the states. So we were at her and Bjorn's home in Wuppertal. They are kind and gracious hosts. We had a bowls of home-made chicken soup for dinner and the soup was wonderful. When I travel, I long for these simple meals of hearty soups and stews.
On Thursday we took the bus and the flying train into the city center. The flying train was the world's first mono-rail system that was built more than 100 years ago. In the center Betty bought some books; yes, she was out of books to read again. We checked on the price of a car rental, which was 39€ per day. We saw open air market near the old city hall. Then we went grocery shopping. When we got back to the house, we prepared dinner. We made our version of sauerkraut with shredded carrots and chicken broth. Despite our friends being German they had never eaten kraut prepared this way.
Friday was a very special day. We did absolutely nothing. It was great. When Heike and Bjorn got home from work, we made a pizza together. After dinner we watched a very interesting movie called American History X. It was a movie about an American skinhead who made an about-face after having killed two black men and serving time. The movie had a heavy duty ending with the ultimate karma coming down on this guy who was portrayed by Ed Norton, giving a fabulous performance.
The Marburg Castle Grounds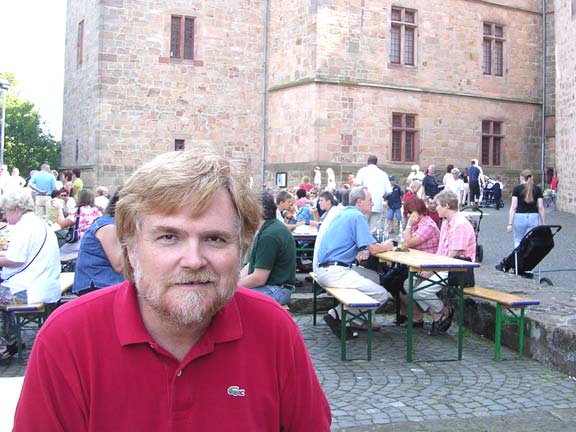 On Saturday the 2nd of September we started with a marvelous breakfast that all four of us had a hand in. Later Betty and I visited a museum in Wuppertal that had a Kadinsky exhibition. We discovered that we really do not like Kadinsky. It is not that his work is bad; it just does not do anything for us. Well, I won't dwell on this. After the exhibition we went to a soccer game; it was Wuppertal versus Lubeck. They are in the third league, in other words, they were not very good. Lubeck started by playing a bit better, but Wuppertal was soon out playing them and really dominating the play. Eventually Lubeck got one of those lucky goals that happen. Then in the last five minutes Wuppertal finally scored to tie the game. In the evening we went to a street festival in the Barmen section of Wuppertal. It was no Aquatenniel, but still it was fun. There was live music, food, little stands with people selling handicrafts and car give-a-ways. It wasn't the state fair, but it reminded us of it - after all we were missing the fair this year.
Just a short diversion now: I am interested in my family roots and have made a study of the family tree. My father's parents were from Sweden. My mother's mother was from a long line of Americans, most of whom emigrated to America in the 1600's. My mother's father came from German stock. We do not know much about the Brinker line, but I am pretty sure that they came from Germany. The mother of my grandfather was born Margareta Christiana Koch. Her parents were from Germany, from a village about 220 kilometers from Wuppertal, from the village of Wollmar, Marburg-Biedenkopf, Hessen, Germany.
| | |
| --- | --- |
| Inside the Marburg Castle | The Old Marburg University |
| A Marburg Street | Old Building in Marburg |
Well, we had heard that Marburg was a beautiful city. The castle, the old university, and most of the city center were from the 16th century. So yesterday, we borrowed Heike's car and took off for Marburg. I knew that the distance was only 150 kilometers by the way the crow flies, but on the road it was 240 kilometers. The drive time was two-and-a-half hours, an hour more than a hour longer than I had first calculated. The town was stunning. I thought that it was possible that my ancestors had been in same square where we stood as we entered the old city. To our surprise this was the Castle Fest weekend. We did not stick around for the storming of the castle, but we did visit the castle and its grounds. We saw as much as we could in the two hours we were there. A treat was the Café Vetter with its great pastries. From here we traveled north. Both of the villages where my grandfather Charlie's grandparents and their ancestors came from are just a few kilometers from the town of Mü nchhausen. We stopped first in Ernsthausen. Then we went to Wollmar. The village is very old. It is a farming village. Its church is 176 years old. Like most graveyards that we have visited, the old stones are no longer there. We returned to Wuppertal very tired from all the driving. We ate some sandwiches and broke out the cakes that we had got at the Vetter Café. It was a nice treat for everyone.
| | |
| --- | --- |
| The Church in Ernsthausen | The Church in Wollmar |
| A Typical Home in Wollmar | The Countryside near Wollmar |
Posted by bill at September 6, 2004 12:36 PM