Tokaj and the Joy of Hungary
Press HERE to see a slideshow from Hungary.
The Degenfeld Wines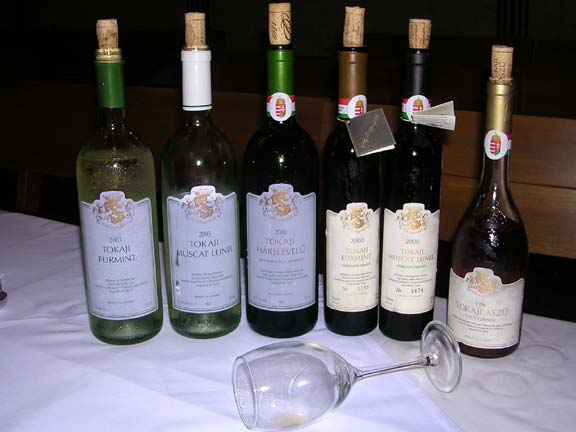 Besides Friday the 2nd being my birthday, it turned out to be one of the most delightful of our journey through Eastern Europe. We drove south headed toward Tokaj, the Hungarian wine center. We were in Tarcal - almost to Tokaj - when we saw a sign directing us to a winery. It turn out to be one of the best in the region, the
Gróf Degenfeld Winery.
Their sales manager, Attila Kondorosi, was our tour guide. It was great fun and he was a good host, who introduced us to some very fine wines. This extremely welcoming introduction to Hungary turns out to be the norm here as we were soon to learn. We ended up taking a wrong road that brought us to a hilltop that was more than 1000 feet above the surrounding countryside. It was a great vantage point to see for miles. Then we doubled back and got on the right road to arrive minutes later in Tokaj. Tokaj is usually spelled as Tokay in English. This is a beautiful little town with no pretensions. The Tokaj tourist information center had lots of f free tourist info. We found dozens of reasonable rooms available. We took a private room for two nights at $20 per night. Truly the Hungarians like us and want us to visit. What else can I say, but "Great!"
| | |
| --- | --- |
| The Kalstrom Winery | A Family Wine Maker |
| Csaba and Bill | On the Wine Trail |
| At the Fountain of Wine | Tokaj's Center |
We were finally able to get our clothes washed. They still have no laundries, but we were able to use the machine at the house we are staying at. We were a bit surprise at how long it took to wash them, but we finally got one load out on the line and another one started. The lady of the house wanted no money for letting us use the machine, but we insisted she take $5.
Then we were off to find the wine cellars. I had met a store clerk, Vicky, the day before who spoke excellent English. Betty had just finished a book, so we dropped by the store to give it to her. I asked about where to start; there are so many cellars here it is difficult to know where to begin. She directed us to four little family run operations near the train station. After a twenty minute walk we were at the first one. Soon we were tasting and buying and before too long we were feeling the wine. These cellars ranged from a very professional to families selling their excess wine production to the public. For example, the first we stopped at, the Klastrom Pince, was very professional; and the last wine maker was Csaba Simon, who sold the excess that his family did not use. Most of the wines start from about $3 a liter and for the very best the Aszu more than $35 a liter.
The afternoon was not half over and we were back in our room sleeping it off. I was sorry not to have made a second run at it but by the time we were on the street the last of the cellars were closing up shop. We wandered down the street and stopped at the Tokaj Hotel for a wonderful meal of roasted pig knuckle with potatoes. With soup and salad and a bottle of wine the total was less than $30, a lot but well worth it.
The basic cool weather pattern with afternoon rains broke today. It was clear, sunny and warm all day. It's like the movie where when you got to Oz - the gloom and doom depart and the light of world falls upon you. We really love Hungary.
Today we just visited three of the better wineries in the town. Only one was a family operation, the Borostyán Pince. It was the only one that I could call fun. At one we did not even try the wines, because they wanted us to pay for a tasting and I did not want to try six wines - I really only wanted to try their Pinot - the only red one that we saw in Tokaj. Tokaj is wonderful place to visit: small (pop. 5000), comfortable, friendly, and with wonderful wines. If we never return to Tokaj, we can always return with a bottle of its flowery scented and sweet tasting wines. We departed in the early afternoon headed to Eger, which I will write about next time.