The Czech Countryside
Press HERE to see a slideshow from the Czech Republic.
Wheat Fields and Hill Tops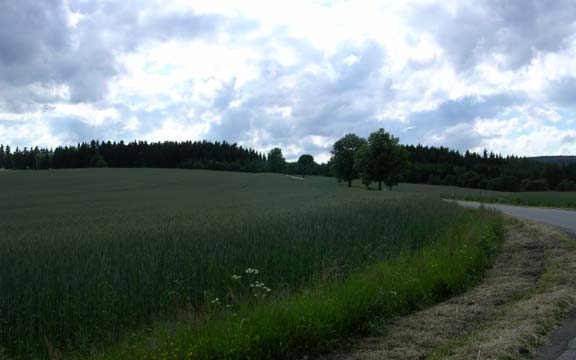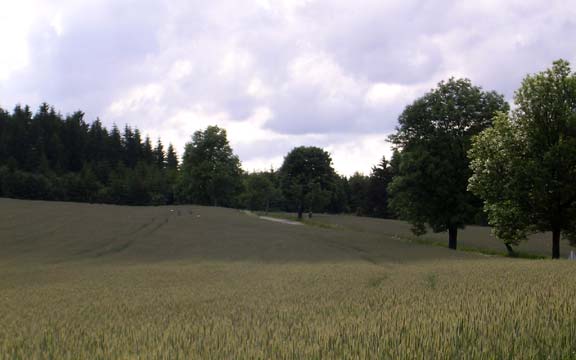 The rest of Sunday in Litomyšl was wet. It rained most of the afternoon and evening. We watched a movie, and then went for a walk about the town square. All the restaurants we full. We ended up eating with two German university administrators. We enjoyed talking with them. They introduced me to slivoice, the traditional plum schnapps of Bohemia. It is an excellent spirit that when store bought is 40 to 50% alcohol, but can be twice that when homemade. After dinner we went to the castle for the opera, only to find out that due to the rain the venue had been changed to a smaller room. So, we had no tickets.
On Monday we drove more or less in a big circle. First we stopped at a nearby airport. I checked out what it would take to fly in the Czech Republic. It would have been no problem to rent a plane for $60 per hour, which is about the same in the USA. I decided not go, because of the different control panel, I might have had problems without a check-out ride. There were no English speaking pilots around to help me out.
We drove to Hradec Králové to view the town square. Then we headed south. We drove by a 14th century Hussite castle near Parduice. Finally we stopped in éďár where there is an ancient monastery. From here we drove on a wonderful little road that passed through a number of villages including Kadov, Snežné, Borovinice, before arriving in Polička. The old city is walled and the 12th century wall is in near perfect condition. We had a great diner in the
Herešova Krčma.
It is in the bowels of ancient stone structure. Our waitress, Rutska, was a strong and beautiful looking woman. I am sure that many a young man who sees her photo will be proposing shortly. The only other customers were two Dutch bicyclists - Christof and Tejn - who were biking all the way from Amsterdam. On Tuesday morning we walked a round the city a bit and took pictures of the city wall and older buildings.
Then we were off to see the Svojanov and Pernštejn castles. Both had cores from the 13th century. They were in remarkable condition. As we drove from place to place we continued to marvel at the beautiful Czech countryside. We especially enjoy the little villages, the dark forests, and the verdant fields that occasionally turn yellow or purple with mustard and lavender flowers.
| | |
| --- | --- |
| Rutska of Herešova Krčma | Polička City Wall |
| Polička Plague Pillar | Svojanov's Castle |
Our last leg for the day, the land flattened out some, so there were fewer deep valleys and higher forested area. But we did arrive in a town where the square was one of the most beautiful in the Czech Republic. We came to Telč. We rest a bit and had a nice supper of sour kraut soup, and pork in plumb sauce - or for Betty mushroom sauce. I wish that it had not been raining, as I would have liked to be sitting on the square. It seems that rain comes every afternoon. And it has been cool. We have heard that last year at this time, it was already swelteringly hot.
This morning we rose to visit the square of Telč and the water chateau on the west end of the square. After touring the chateau, we left for Brno about noon.
The Town Square of Telč
Posted by bill at June 23, 2004 09:55 PM