České Budějovice and České Krumlov
On Tuesday, Betty and I caught the 12:17 train to České Budějovice. Unlike Germany, the trains in the Czech Republic are still very inexpensive; the fare was only $10 for the two of to travel about 100 miles. The country side is much like Germany with many low-rolling hills, a mix of forest and farm land, which is mostly in hay or pastures. The train stopped frequently, so it was about three in the afternoon when we arrived. I walked into the information office, expecting that she would call the inn where I wanted to stay. She did not, and I let it pass with just getting bus information on how to get to U Havrana. I had stay there the year before. For me it was perfect, meaning clean and cheap. Alas, as luck would have it the inn was full. So, Betty settled down while I went out looking for new accommodations. I located a place about a mile away; a place where it was difficult to catch a bus to. So, we had to lug our gear more than half a mile. Now that may not sound far, but 30 to 40 pounds for folks as old as we are is no mean task. We got a room at the Privat Maja, really just a room that a family lets out. Still the cost was less than half of what we were paying Prague.
České Budějovice is a beautiful small college town with a population a little over 100,000 souls. There is a very relaxed atmosphere about the place. Two rivers run through it One is the same river that flows through Prague, the Vltava River, only here, it is quite small. The German name for this town is Budweiss, and the beer that they brew here is called Budweiser Budvar, much to the consternation of the St. Louis company of the same name. This Budweiser is far superior to the American brew; and I like it almost as much as I like the other Bohemian beer, Pilsner Urquell. By the way, the east half of the Czech Republic is Bohemia and the west half is Moravia. Betty did a bit of window shopping and commented how inexpensive the western goods were here. This I would not have noticed so much, but I do love getting a wonderful dinner for two that includes beer for less than $16.
Press HERE to see a slideshow from the Czech Republic.
Buildings of České Budějovice
Castle Tower in České Krumlov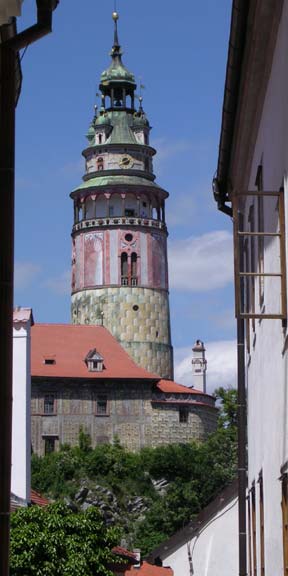 Besides wanting Betty to see this place, another reason for coming was to contact Peter Kliment. I met him last year, and he said that he would help me buy a cheap car. This plan turned out to be a complete bust. There are serious problems in all of the EU to buy an older used car. Unlike most places in the world, you cannot simply buy and register the car. They require a permanent EU address, which is very different from North America, New Zealand, and Australia. Had I known about the difficulties, I would have flown to Germany or Denmark - where I have friends that could establish my 'permanent' EU address. Worse yet, I expect laws about such things to be rational, and for the life of me, I cannot understand these laws. Perhaps, they are leftovers from a time when they tried (maybe they still do) to control number of cars in a country. Now, it makes no sense, as anyone in the EU can buy a car anywhere else in the EU - no promblema. Poor Peter, I think that he was almost as surprised as we were to discover these facts. Before meeting with him yesterday afternoon, we spent a good deal of time trying to look in the many used car lots in the city. We even thought that we had worked out a good deal with a fairly reputable car dealer. Bringing the info we had gathered, Peter agreed to do some more research, including checking with a policeman friend. So, when he gave us the information this morning - we were fairly disappointed. Peter then tried to call several rental agencies in town - they all wanted way too much. So, we decided to return to Prague where we were offer a car for still a lot considering this is nearly a three month rental. Then finally, we did find a reasonable offer on the phone, but could not get him to show us the car. I may try one more time in the morning to get a showing, but it looks like Prague will be our destination tomorrow.
This afternoon, we went to the picturesque little town of České Krumlov. It is about 30 miles south of České Budějovice. This town never experienced the Hessian Wars or the Thirty-Years War. It always passed hands peaceably, and because of that, it is a perfectly preserved 400-year old city with the marvelous Rosenberg castle. Here the Vltava River is clean and clear. It moves rapidly with an occasional set of rapids. A couple can rent a canoe for as little as $15 for a 2 to 3 hours ride down stream. The place is so lovely that only our pictures can give you a sense of it.
I could take a whole lot more of the easy life that I see here, but tomorrow we must return to Prague. Not that Prague is a hectic place, just a bit larger.
We hope that are photos makeup for the lack of description and that you enjoy them.
České Krumlov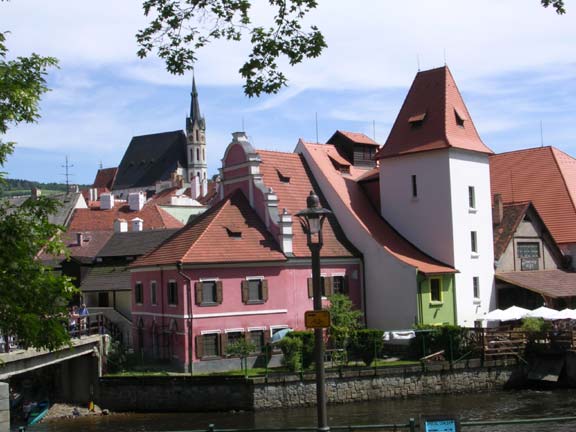 From the Castle Court Yard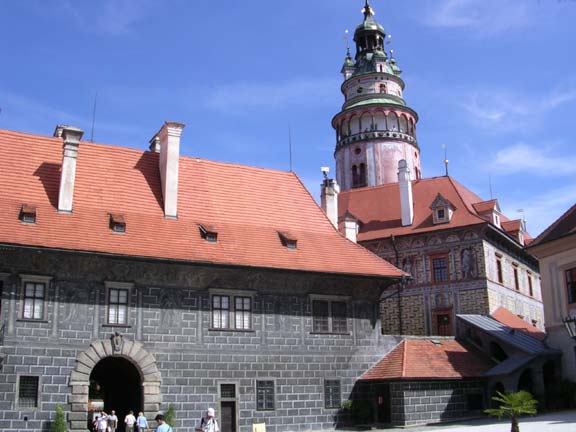 Posted by bill at June 18, 2004 12:00 PM